COMPUTEX 2017 is going on this week in Taipei, and with over 1,600 exhibitors from 26 countries, there's plenty of cool tech products to see. Originally focused on B2B technologies, for 2017 COMPUTEX has expanded its focus to cover five areas of technology innovation: AI & Robotics, Innovations & Startups, Business Solutions, IoT Applications, and Gaming & VR.
Even though I'm based in the United States, I assumed that I had seen much of what's going on in the global tech scene from having attended so many trade events over the years – I was wrong. The vast majority of the companies and products I'm seeing here are completely new to me. Many of them don't have a presence in the US markets, at least not yet, but that will change. I saw plenty of products that will be coming to US shores later this year, and other innovative ideas that I certainly hope we will see at some point in the future.
Here are some of my favorites that cut across each of the show's five focus areas.
---
Chess-playing robot
 
This chess-playing robot from Taiwan's Industrial Technology Research Institute (ITRI) was created to demonstrate the integration of spatial recognition technology with motor controls. There's no plan to sell it as an actual product (and it would be ridiculously expensive if they did), but I can imagine nothing else my 9-year old chess-playing son would rather have for the holidays.
Pesticide detector for fruits and vegetables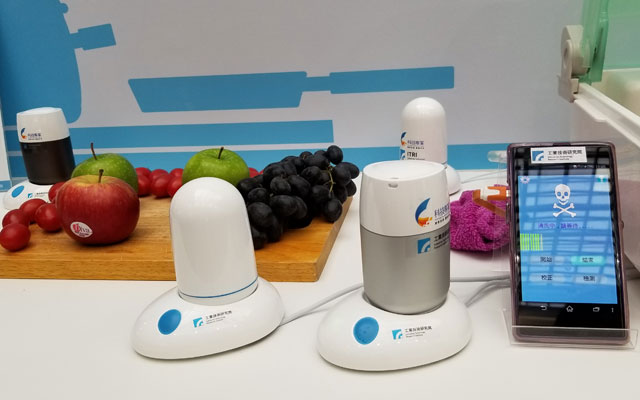 Also from ITRI is a device that can detect pesticides on fruits and vegetables. Drop it in a water bath with your produce and give it a good rinse. The monitor will alert you via the app when the residual pesticides are no longer present. The underlying technology is also available to companies for building into actual business (think schools and other institutions) and consumer products.
---
National Palace Museum Painting VR

Virtual Reality is one of those things where the promise of the technology seems to still be far ahead of the ho-humness of current applications (the dozens of shooter games being demoed at the show being the perfect example). However, the National Palace Museum did a wonderful job bringing a 13th-century painting – Autumn Colors on the Ch'iao and Hua Mountains – to life. Using a VR headset and headphones, the exhibit transports you to the time and place of the painting. Telling you the story of its creation as you travel, virtually, through the land of the artist. Unfortunately, there are no plans yet to make it publicly available for download.
---
S-Glove sign language translator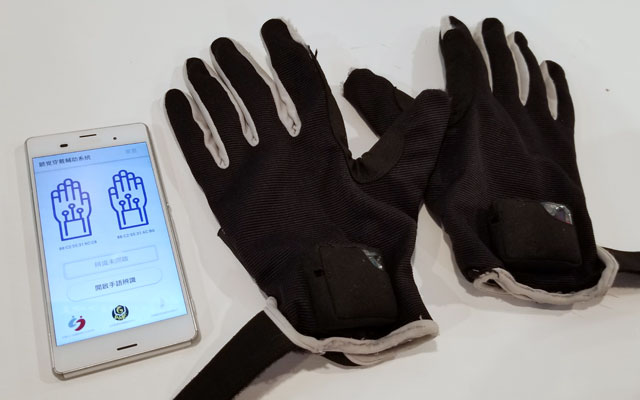 For the deaf, communicating with those who don't understand sign language can be a big challenge. The S-Glove by Taiwan Yingmi Technology offers a creative solution to that with a pair of gloves that can "read" a person's signing and translate the words into a companion app. Still in prototype phase, but may be launched later this year.
---
ORii Bluetooth "headset"
 
The ORii is a Bluetooth headset that you wear on your finger as a ring. When a call comes in, you place your finger against your ear, and the Orii uses bone conduction to transmit sound. Looks weird, but it works.
---
Style.me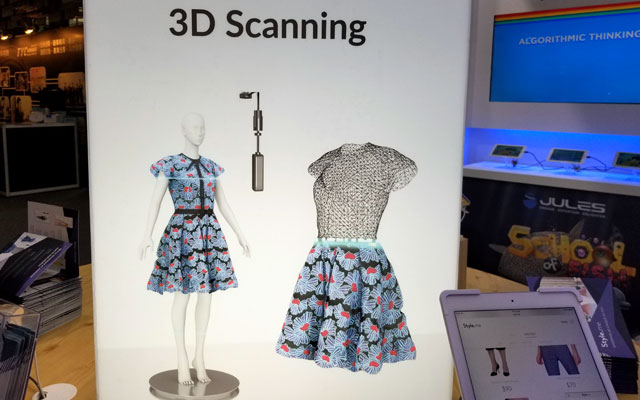 Buying clothes online is hit or miss. And, if you're like my wife, it's about 90% misses. The problem is you never know how it's going to fit until you try it on, and that results in a big return problem for retailers (and consumers). Style.me's technology scans each piece of clothing at the retailer's warehouse to determine physical characteristics. Then shoppers can enter their exact measurements when they go to the retailer's site and see an accurate representation for how the garment will fit their unique body shape. Style.me is in talks with retailers now to roll out the technology.
---
Completely over-the-top gaming rigs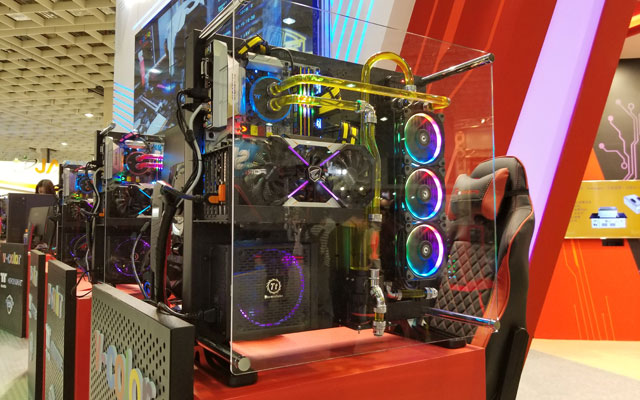 A huge section of COMPUTEX is devoted to computer gaming and, if you thought desktop computers were boring, you haven't been to a gaming show. These super-high-powered gaming rigs are tricked out with multi-colored liquid cooling systems, arrays of glowing fans and customized case designs. They're the ultimate expression of complete and total geekdom.
---
The Taiwan External Trade Development Council (TAITRA), the organizer of COMPUTEX, covered my travel expenses to attend COMPUTEX.
[Image credits: Josh Kirschner/Techlicious]