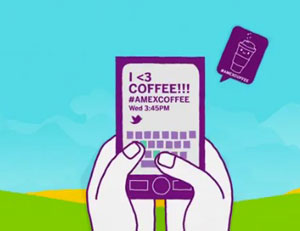 You might not be keen on tweeting about Whole Foods promotional offers, but if those tweets meant immediate, substantial savings, you just might. That's what American Express is banking on with their newly launched, "Tweet your way to savings" program, which allows cardholders to tweet a promotion and reap immediate benefits when the purchase is made.
Here's how it works: First, (obviously) you have to be an AmEx cardholder and have a Twitter account. You sync your card and Twitter account, then just tweet any of the current hashtag offers to receive savings that are automatically applied as statement credits on your account. There are no promo codes, coupons and printouts needed. So, for instance, you can tweet #AmExZappos and get $10 off a Zappos purchase of $75 or more.
Offers with McDonald's, Whole Foods, Best Buy, Dell, H&M and a handful of others are now running, with plenty more to come with national retailers of all sorts.Some offer meaty savings, others only five or ten bucks, but theyre worth the time it takes to type 140 characters (provided you don't mind using Twitter to shill for American Express and partners).