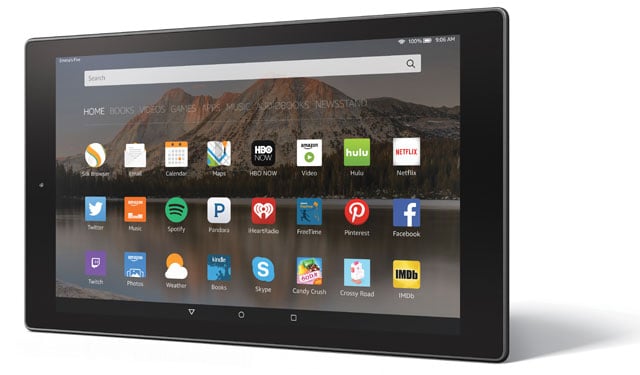 If you're in the market for an 8-inch tablet, you won't find a more budget-friendly option than Amazon's updated Fire HD 8. The latest iteration of Amazon's middle-of-the-road model isn't just more powerful: it starts at $90 (down from $150). While it still lacks the power of high-end tablets in its size range, it's perfect for everyday tasks—and when those high-end tablets can start at $400, Amazon's latest tablet has a lot of appeal.
The updated Fire HD 8 has 12 hours of battery life (up from eight), 1.5GB of memory (up from 1GB), and starts at 16GB of storage (up from 8GB). And while 16GB isn't much if you're storing movies, games and photos, a 32GB model is available for $120—and both tablets have a microSD slot lets you add up to 200GB. (Your best value for storage is likely to get a 16GB model and a microSD card—expect to spend $10 for 32GB or $20 for 64GB.)
Unchanged are the tablet's quad-core, 1.3GHz processor (though Amazon says the increased memory will speed the tablet up), the widescreen HD display, and the 2MP rear camera and VGA front camera—all of which lag behind the competition. Still, considering the price tag it's a solid tablet that should handle email, reading, social networks, music and movies, which makes it plenty of tablet for most users.
There's also an exciting update coming to all Fire tablet owners: Alexa, Amazon's voice control system. Alexa has an impressive array of features and you can already find it in a number of smart home devices—and adding Alexa to your tablet gives you one more way to control your home automation setup. While it's not available yet, it will be included with a software update "in the coming months."
The price is certainly right for this tablet: the sub-$100 price makes it an ideal choice for kids or teens clamoring to play with your iPad. (Though for younger children, you'll definitely want to invest in a sturdy case.) If you just want to use your tablet to browse the web and post to Facebook, the Fire HD 8 will handle it without breaking the bank. Just remember that the HD 8, like most Amazon products, comes with special offers—advertisements on your lock screen—by default. While they aren't terribly intrusive, if you want a tablet without them you'll pay an extra $15. Though that isn't much, it does bump the low-end model up to $105.
The Fire HD 8 is available for pre-order now and will ship on September 21. If you want to add a stand case or a kid-proof case, you'll spend another $30. If you want to spend even less, you can still pick up the 7" Fire Tablet for $50—but unless your budget is really stretched thin, spending the extra $40 will get you an HD screen, twice the storage space, stereo Dolby Atmos speakers and nearly twice the battery life. Those are upgrades that are definitely worth the cash.
[Image credit: Amazon]