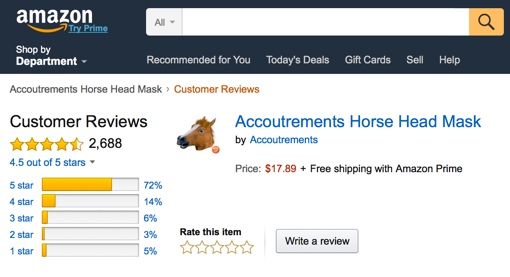 Online retail giant Amazon has just launched a new customer review algorithm that the company says will "make customer reviews more useful," Cnet is reporting. The system, put into effect Friday, uses machine learning to determine which customer reviews are the most helpful and relevant. These select reviews are then given more weight when it comes to calculating the 5-star rating of an item. The new algorithm also adds more weight to reviews from verified purchasers and newer reviews.
"It's just meant to make things that much more useful," says Amazon spokeswoman Julie Law, "so people see things and know it reflects the current product experience." A product that decides to cut back on its quality to save in manufacturing costs, for example, will now see its ratings fall quicker on Amazon to reflect the change.
Really, though, the change seems to target fake reviews more than anything else. Fake reviews lower the reliability of Amazon's otherwise terrific ratings system. Amazon is very protective of that asset: Earlier this year, Amazon took legal action against sites that sell fraudulent 5-star Amazon reviews to desperate product manufacturers. By changing up the ratings algorithm, Amazon builds on that effort by automatically discounting fake reviews that do make it through.
Shoppers should note that the change to Amazon's review system might make product star ratings more volatile. For more on spotting fraudulent reviews, check out Techlicious's primer How to Tell if a Review is Fake. You might also want to check out these 6 ways to save money while shopping on Amazon, and review new changes to the company's two-day free shipping policy.
[Image credit: Amazon]