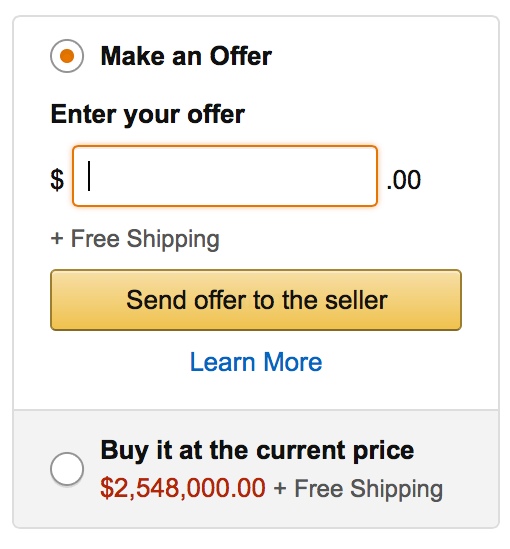 Ever see an item for sale on Amazon and wish you could negotiate a better price with the seller? Well, good news – the company has just launched a new feature called "Make an Offer" that allows you to name your own price on any of the 150,000 items for which the option is now available. Like on eBay, you can choose to pay full price for these items if you'd like to, but if you can get a better deal, why wouldn't you try to negotiate one?
For now, the feature is limited to a handful of categories, including where prices are typically high and fluid enough to merit haggling: Sports & Entertainment Collectibles, Collectible Coins, Historical & Political Memorabilia and Fine Art. To make an offer, you simply need to choose the option found where the "Add to Card" button normally is and type in your opening bid (found only on eligible items where the seller has opted-in). The seller can then accept your offer, refuse it, or counter it back with an offer of his or her own. And all these negotiations are kept private until an agreement is reached and the item is purchased.
If you'd like to peruse Amazon's selection of negotiable items, simply head to amazon.com/makeanoffer. You'll see some amazing collectibles for sale, including a $31,500 Pinnated Grouse print by famed nature artist John James Audubon, $21,184 boxing gloves signed by Rocky Marciano and an original $4,295 James Bond movie poster for From Russia With Love. If you're an especially high roller, you can even negotiate for a $2.55 million penny minted back in 1792 when George Washington was president.
Amazon plans to expand the Make an Offer feature to "hundreds of thousands of items from sellers" in the next year. It will likely be reserved for similar types of collectibles moving forward, but who knows – someday you could be negotiating prices on your everyday purchases, too. In the meantime, check out these 6 other ways to save money on your Amazon purchase.