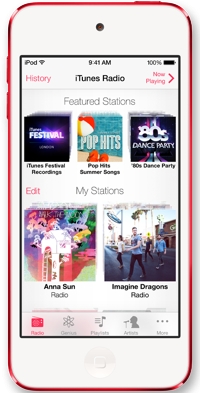 Move over, Pandora. Watch your back, Spotify. This fall, Apple will be introducing a new streaming radio service called iTunes Radio.
The app will feature more than 200 stations able to suit any mood, from Country Summer Songs to enjoy poolside to Trending on Twitter, a selection of up-and-coming songs that are being buzzed about online. Like Pandora and Spotify, you can create your own channels that learn through commands, like "Never Play This Song." iTunes Radio will keep track of what you've been listening to and make it easy to buy and download songs you like directly from the iTunes store.
None of this might be exciting if you've been using Pandora or Spotify over the last few years – the music and features are quite similar. There is one great new feature, though: Siri integration. You can tell Siri to play a certain song or station, or give you more information about the artist. Siri can even suggest songs that are similar to the one currently playing. So now, whether you're in the car or running on the treadmill at the gym, you don't need to fumble with your device to switch up the music. Just use a simple voice command to keep the tunes flowing.
iTunes Radio is just one of the many new features coming in iOS 7, the update to Apple's mobile operating system slated to arrive this fall along with the new 2013 iPhone. In the meantime, there are plenty of great options for finding music online for free and streaming music directly to your phone.