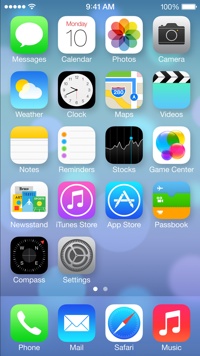 Prepare to have your breath taken away. Apple unveiled iOS 7 at its Worldwide Developers Conference today, giving the public its first official sneak peek at the massive, design-conscious overhaul coming to the mobile operating system that runs your iPhone, iPad, and iPod touch. Here are the most exciting new and updated features.
An updated design
One of the first things you'll notice about iOS 7 is that it pays an incredible amount of attention to graphic design. There are new app icons, improved typography and a minimalist approach that removes unneeded clutter, lines and color when they get in the way. The home screen is lush and vibrant, but apps like Calendar use color to help organize your life and keep your day on track. Address and search bars are hidden in Safari until you swipe to reveal them. Even the Weather app has undergone a graphic upgrade.
The new operating system uses motion sensing to create a 3D parallax illusion, making it appear as if your icons are floating above your background. It's an absolutely unnecessary feature that is beyond gorgeous, putting an exclamation point on the operating system graphic redesign.
Notifications
Your phone's Notification Center is getting a much-needed upgrade in iOS 7. Information is broken up into three tabs: a Today tab, which shows your calendar appointments, the current weather and even local traffic conditions; a Missed tab, which shows you all those text messages and push notifications that happened since the last time you used your phone; and an All tab, which lets you sift through every notification you received in the last 24 hours.
Control Center
In iOS 6, some of the most important phone features, such as turning on Wi-Fi and enabling Bluetooth, are hidden away in a Settings submenu. Not in iOS 7: A fully loaded Control Center can be summoned by swiping your finger up from any screen. All the important features you're familiar with are there, as are a few new ones. Now, you can quickly access your phone's calculator, turn on AirPlay, play and pause music–even use the new built-in flashlight feature (finally!).
Photography
Photography has always been a major part of the smartphone experience, and in iOS 7, your picture collection is getting a major update. Open the Camera app, and you'll notice it looks a lot like Instagram, complete with eight new retro filters and an option to take square photos.
Once taken, photos are automatically organized into three groupings based on dates and locations. So a week-long trip to New York City will automatically appear in your photos as its own "Collection," an easily found grouping of all the pictures you took while there. Inside that Collection are individual "Moments" – photos taken from the top of Rockfeller Center or shots from Central Park. You can even search your photos by year.
Multitasking
Doing more than one thing at once on a smartphone is admittedly a tall order. Apple has made strides to allow for multitasking in the past – you can use Facebook while an MP3 plays in the background, for example. But now, multitasking is built in to all iOS apps, not just a musical few. And switching between apps is easy – a simple matter of swiping your finger across the screen.
The new iOS 7 learns from how you use the phone, automatically updating apps based on your usage history. If you check your email when you wake up in the morning, your phone will learn to look for new messages immediately before you wake up. And, your phone will prioritize updates for energy efficiency, taking advantage of those moments your phone connects to Wi-Fi. In short: With iOS 7, your iPhone battery should last longer.
Find my Phone
The iPhone is a pretty popular device with tech junkies and thieves alike. With that in mind, Apple added a number of new security features that make it harder for the bad guys to sell a stolen phone and easier for you to recover yours.
Erase your phone remotely, and a lock screen message will provide good Samaritans with an alternate phone number to contact you. Erasing your phone's memory now requires you to enter your Apple password. And, should you get your phone back after you erased it, entering your password will let you undo the damage and start restoring your phone to the way it was.
iTunes Radio
Following in the trend of copying third-party apps, Apple is introducing a Pandora-like streaming radio service this fall called iTunes Radio. The app works much the same way other streaming apps do, giving you the ability to create personalized radio stations. But, it also gives you the ability to purchase songs directly on iTunes and control the flow of music through Siri voice commands.
AirDrop
Your iPhone is finally getting the ability to share photos, videos and contacts directly with other Bluetooth-enabled devices using a feature called AirDrop. Tap the new "Share" button and you'll be given a list of nearby devices you can securely beam your content to. No complicated setup is required, and you can easily turn off AirDrop so strangers won't be able to see and beam questionable material to your phone.
iOS in the Car
One killer feature of iOS 7 won't be available at launch: iOS in the Car. The new functionality essentially takes your smartphone's screen and mirrors it in your car, letting you see and control music, GPS, answer phone calls and use other features all without touching your phone. A slew of major car manufacturers will be including this functionality in their 2014 models, including Chevrolet, Ferrari, Honda, Jaguar, Kia, Mercedes, Nissan, Volvo and more.
Coming this Fall
Owners of the iPhone 4, 4S, and 5 will be able to upgrade to iOS 7 for free this fall, when the new 2013 iPhone is released. Not all features will be available on some older models, due to their slower processors. The iPad 2, iPad Retina, and iPad mini will all be able to run iOS 7, as well as the iPod touch 16GB, 32GB, and 64GB.