We may earn commissions when you buy from links on our site. Why you can trust us.

Review of the iPhone 5S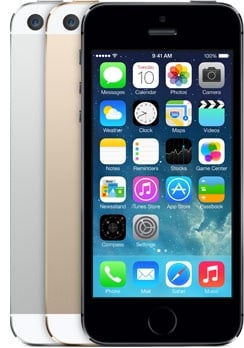 If you are the owner of an iPhone 4 or 4S or a disgruntled Android user or one of those holding on to their old flip phones, then it's easy to proclaim the Apple iPhone 5S to be the best and safest smartphone for you. The iPhone 5S has the best camera of any smartphone (save those with a real lens such as the Samsung Galaxy S4 Zoom or Nokia 2010), it has one of the fastest processors of any smartphone, (with the exception of the HTC One, Samsung GS4 and the latest Snapdragon 800 phones coming to market, such as the LG G2), and it's the first smartphone to identify you via fingerprint, rather than having you tap in a clunky passcode for extra security.
However, the iPhone 5S is one of Apple's smaller updates to its flagship smartphone line. If you can wait, the really big updates – larger screen, for instance – will likely come a year from now with the iPhone 6.
If you are interested in upgrading now, check out the the iPhone 5S pros and cons below to decide if this is the right smartphone for you.
Form factor

The 5S is physically identical to the previous iPhone, the 5, with three differences: the new color options, the fingerprint-reading Home key and the extra rear LED flash.
Of the three new physical features, it's the Home key change that is the most profound. As you've no doubt heard, the iPhone 5S Home button doubles as a fingerprint reader. Instead of the previous concave shape, the button is now flat and ringed by a stainless steel gasket that's part of the print detection process.
If you're paranoid, you can skip the fingerprint set up. If you're game, the process takes only a couple of minutes and is self-explanatory. You can even add additional fingers (like your opposite thumb or your spouse's print).
Once memorized, you wake up your phone by simply laying your finger on the Home key to unlock it. It's much faster than tapping in a four-digit code, even if the reader fails to read your print, which was almost never during my hands-on time with the new device. You can also use your print to confirm your identity for iTunes purchases instead of constantly inputting your Apple ID password.
Assuming hacks remain as Rube Goldberg-ish as this one, I suspect other smartphone vendors will adopt their own cool and simple fingerprint scanner.
Performance and battery life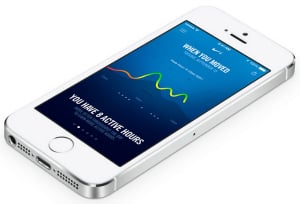 iPhone 5S' biggest tech headline is Apple's new A7 chip, the first-ever 64-bit processor, paired with Apple's M7 motion coprocessor.
There is some controversy surrounding the necessity of a 64-bit processor without a memory upgrade to support it, and there are few consumer apps that have been updated to exploit this extra brain power.
But the M7 motion co-processor is another story. By taking on most of the motion detection heavy lifting from the main A7 processor there is less battery drain.
As with 64-bit compatibility, there are only a handful of apps upgraded to take advantage of the M7. It will likely be exercise apps such as the Argus fitness tracking app and motion-centric games that will be updated to provide greater motion sensitivity while burning less battery life.
But the processor and co-processor still provide an overall benefit to the phone. The 5S provides substantially better battery life – around 15 percent by my own unscientific calculations – than the 5. This battery life gap will likely widen as more apps take advantage of M7's specialized motion processing.
Display and sound
Apple has kept the 5's 4-inch screen, which apparently is big enough for most folks, but I don't think the 5S display is from the same supplier. When compared side-by-side with the iPhone 5, the 5S screen seems to have a nearly imperceptive greenish tint. You likely won't notice it.
But compared to other 5-inch super phones, the 5S' 4-inch display seems small, especially for the price. Both top Android phones, the Samsung Galaxy S4 and the HTC One, now come in "mini" varieties with 4-inch screens, both priced half that of the iPhone 5S.
The 5S sounds exactly like the 5. For phone calls that's good, but the bottom-mounted mono speaker is still beneath Apple's standards. One can only hope Apple adds some level of stereo audio on the iPhone 6.
Camera and video recording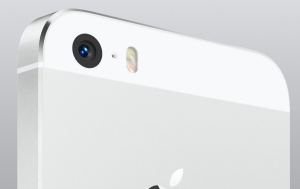 While the 64-bit A7/M7 combo is a fascinating technical upgrade and the fingerprint reader a headline grabber, the real 5S upgrade star is its camera. Unequivocally, iPhone 5S has the best camera of any smartphone that doesn't have a specialty lens – and even compared to those I'm not too sure.
Any smartphone camera's downfall is low light situations. Apple has rejiggered the iPhone 5S in two significant ways. The sensor can detect more light by its 15% larger sensor and also due to the increase of the aperture to f2.2 (the camera equivalent of widening a hole to let more light through). By allowing more light in, darker scenes are not only better and more evenly lit, but there is less dreaded graininess.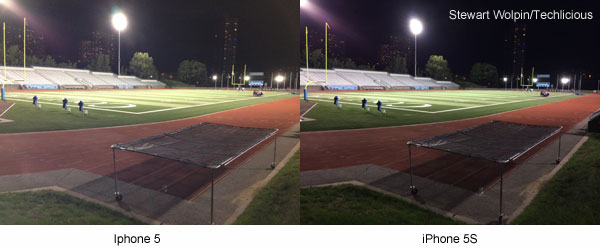 Apple also has created what it calls a True Tone flash for its iSight camera. It's equipped with two LEDs, one standard and one amber, to better render skin tones.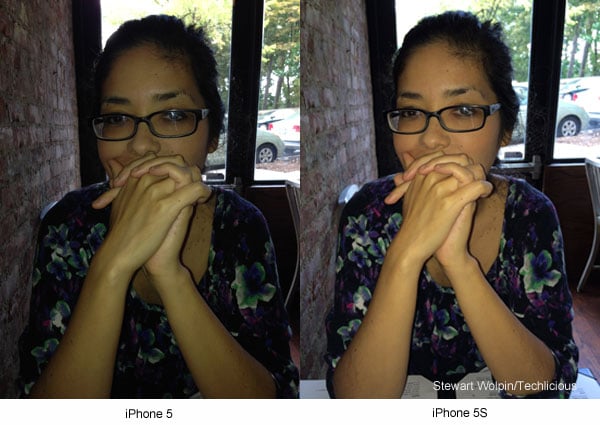 Finally, Apple has added image stabilization, which means the 5S will compensate for a shaky hand and keep images and video crisp, especially when shooting in low light situations.
Combined, the results are extraordinary. You'll find you won't need a flash in situations where you thought you'd need one, and when you use a flash, flesh tones are more natural and the image is more evenly lit instead of being bleached in the middle and dark around the edges.
Even though the camera on both the 5 and 5S are 8 MP, the file size for images taken with the 5S are around 30 percent larger than those snapped by the 5.
Pricing and availability

Like all previous iPhones, the 5S comes in three memory configurations: 16GB ($199), 32GB ($299) and 64GB ($399).
Unlike all previous iPhones, the 5S comes in three color combos, white with a gold back, white with a silver back, and black with a grey back (what Apple calls "space grey"). The first was sold out almost immediately, the second pretty quickly, and then all 5Ss sold out until next month.
Considering how much larger photos snapped by the 5S are, how much space 1080p video takes up and other memory considerations such as still photo, music and movie storage, you'll need more storage than you'd think. This expanding storage need exposes one of iPhones most enduring problems – lack of a memory card slot for expanding the onboard memory.
As a result, I'd opt for the 64 GB version. In fact, I'm disappointed Apple didn't create a 128 GB version.
Should you buy it?
Since the early adopters have snapped up the entire initial inventory, you don't need to make a decision quite yet.
If you don't have an iPhone 5 or another 4G LTE-capable smartphone, getting a faster data connection ought to be your prime reason for getting either the 5S or the less expensive non-fingerprint-reading 5C.
But while iPhone 5S is the best-equipped iPhone ever, it is missing many attributes found in bleeding-edge Android and Windows Phone phones, such as NFC, which enables easy pairing of Bluetooth devices and mobile wallet functions, as well as faster "gigabit" 802.11ac Wi-Fi.
If you have a 5, or have no desire for 4G LTE connectivity, simply upgrading to iOS 7 will bring a multitude of new features (such as a more responsive Siri). An iPhone 5 upgraded to iOS 7 could tide you over until Apple's next full-scale iPhone upgrade with possibly a larger screen, NFC, AC Wi-Fi and other advanced features and functions a year from now.
If you're on the fence, and if the 5S camera improvements and fingerprint reader aren't enough to convince you, you may be more of a candidate for Apple's cheaper 5C.
Rating: Highly recommended for all but current iPhone 5 owners.
---
Discussion