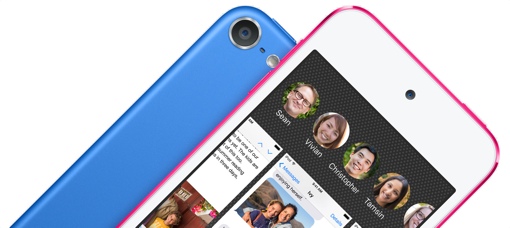 Apple today officially refreshed its line of iPod touch devices. The new iPods feature an upgraded chip, improved camera, new colors and more, all for the same price as the previous generation.
It now uses the same 64-bit A8 processor as the iPhone 6, which should allow this iPod touch generation to keep up with the coming iOS 9 and beyond. It also features the M8 Motion Coprocessor, which senses movement, steps and distance for fitness tracking applications. You can review the pictures taken by its upgraded 8-megapixel iSight camera on its 4-inch, 1136 x 640 Retina display. And it now supports the faster 802.11ac Wi-Fi specification (and Bluetooth too).
The new iPod touch line also features some bright new colors. I especially like the new pink, but the blue, gold and space gray look great too, of course. The iPod shuffle and iPod nano are available in these colors as well, though neither got the hardware refresh of the more expensive iPod touch.

Certainly, we are long past the glory days of the iPod, but the device still has a number of uses to the right individuals. It's a great device for a child who might not be ready for a full-fledged smartphone – they can still access apps, enjoy music, post to Facebook and watch YouTube with a Wi-Fi data connection. The iPod touch can even be used to place free phone calls via the Google Voice app (again, when connected to Wi-Fi). It's also a good bridge device for someone who is still uses a feature phone but wants access to smartphone-type features without paying for an expensive mobile data plan.
The base 16GB model of the iPod touch is now available for $199. A larger 64GB model is available for $299, and a brand new 128GB size can be had for $399. To learn more or purchase yours, visit apple.com or an Apple Store near you.
[Image credit: Apple]