When Apple Music launched in 2015, you could only listen on your iPhone and Mac, which made the service a pretty hard sell if you were already streaming tunes from Spotify or Pandora — both of which have the advantage of having free, ad-supported versions. But since its limited launch, Apple Music has found its way to a lot of platforms: in addition to the expected Apple devices, you can also listen on Android, Windows, Chrome OS, Amazon Echo and Sonos speakers.
Still, Apple Music lacked one big feature that its competitors had: access via the web, which let you listen from any computer on any platform via a web browser. But now Apple Music has caught up with the crowd and launched a beta web interface for Apple Music.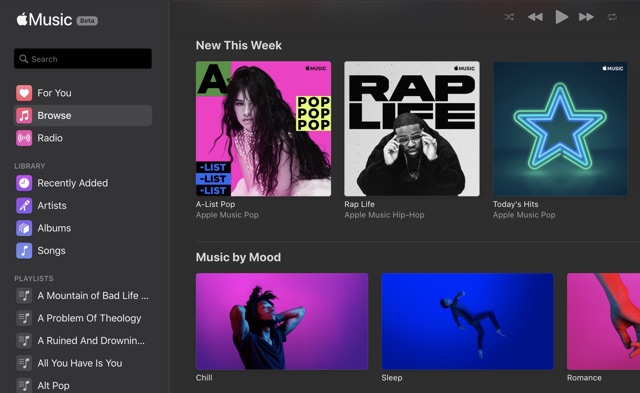 If you've used Apple Music on any other platform, the new web interface is pretty intuitive. In the left-hand column you can the "For You" section of music picked just for you, browse new music, listen to radio channels, or browse your personal music library. Though the tabs are arranged a little differently than they are in iTunes or iOS, it's easy enough to find things — and it's frankly arranged a bit more intuitively than alternatives.
This is likely a precursor to a revamp of iTunes in Mac OS Catalina, which will split the music section of iTunes out into its own music app, which will hopefully look more like this web interface. Catalina is due out this month, giving Mac users a better way to access their music libraries — but whether you use a Mac or not, the new web interface is a solid way to use Apple Music.
Is this enough to lure you from Spotify? Probably not. Spotify and Apple Music offer similarly sized music libraries — about 50 million songs — available on multiple platforms for $9.99 per month (with $4.99/mo plans for students and $14.99/mo plans for families). And for people who don't want to pay at all, Spotify will let you listen with ads, while Apple Music will only let you access its Beats1 radio station for free. Amazon Prime subscribers will see even less appeal to paying an extra $10 per month for music, since Amazon Music — which has a small library of 2 million songs — is included for free with Amazon Prime.
If you're already devoted to one platform, this isn't a likely to sway you — but it does make Apple Music easier to access for anyone outside the Apple ecosystem.
And if this addition makes you feel like giving the service a try, why not? There's a free three-month trial, so you can give Apple Music a go to see if you prefer the content and curation to what's offered on other services. (Just remember to cancel before your trial is over to avoid charges.) However, there's one small snag: the beta version doesn't allow you to sign up from the web. For now, you'll still have to join using iTunes or the mobile app for Android or iOS.
Apple Music subscribers can try out the beta version of the website right now, and non-subscribers can give it a try with the free trial — though you have to download iTunes for that initial setup.
[Image credit: Woman using laptop and listening to music via BigStockPhoto, Apple]