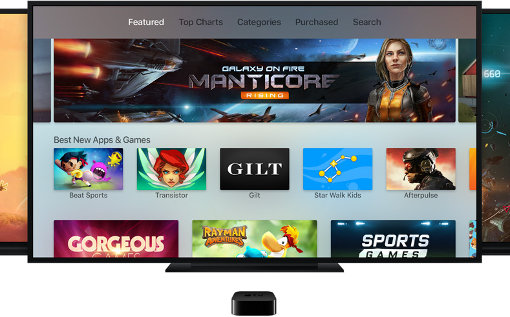 Discovering the best tvOS apps since the new Apple TV launched has been by word of mouth. But now you have another great resource, Apple. If you have a fourth-generation Apple TV, now you can browse Apple's top charts for tvOS apps to see what's hot and popular.
Look for the top charts for tvOS apps in a new section in the Apple TV's App Store. The charts section looks much like the top charts for iOS apps, with subsections for Top Paid apps, Top Free apps and Top Grossing apps.
The new feature is being rolled out gradually to fourth-generation Apple TV units. The new Apple TV units also feature a touch-screen and voice-control remote (Yes, you can ask Siri to play a movie for you.) At release time, Apple hadn't gathered enough user data to create the top lists, but now that people are starting to download tvOS apps, Apple decided to release the top charts, and you can expect with more users and more apps that the selection will improve.
Games, especially paid games, are currently the most popular apps. 9to5Mac notes that games make up most of the top paid apps list. That's hardly a surprise, since gaming is a new feature in the latest Apple TV. The top free apps are a mix of media apps (especially TV streaming apps) and games.
Apps for tvOS generally cost more than iOS apps, but as popularity increases, there's hope that prices will eventually go down.
Most of the apps for the Apple TV can be bought only from the TV itself, although some universal apps work on both your Apple TV and iOS devices. You can buy those apps from either device. They include ABC, CBS, CNBC, CNNgo, Disney Channel, ESPN, Fox Now, HBO Go, History Channel, National Geographic TV, NBC, PBS Video, Showtime, Bloomberg, Hulu, Netflix, Plex, TED, Vimeo, Carrot Weather, Yummly, Zova and many more.
[Image credit: Apple]