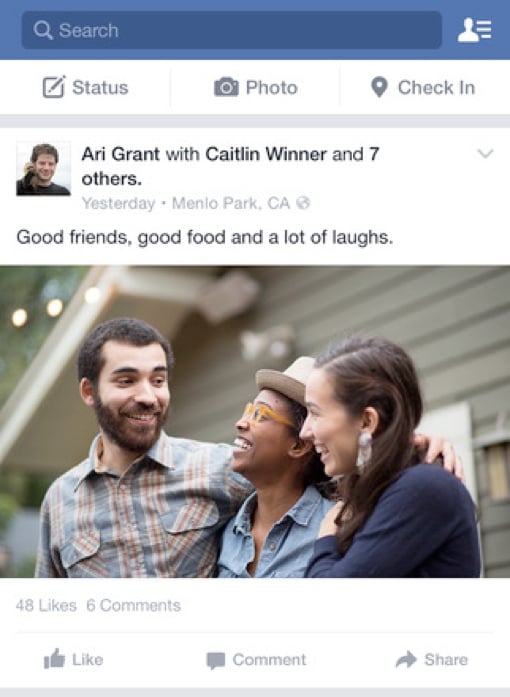 Facebook is the most downloaded Apple iPhone app of all time, with the associated Facebook Messenger app in the number two position, a new report from app store tracking site App Annie has revealed. The honors for the most downloaded iOS game of all time, meanwhile, went to King's addicting viral hit Candy Crush Saga.
The data, released a week before the anticipated unveil of the Apple iPhone 6S, is separated into four categories: top apps by downloads, top apps by revenue, top games by downloads, and top games by revenue. Only downloads that happened after July 2010 were taken into account.
It comes as no surprise that Facebook and Facebook Messenger wound up being the two most downloaded apps – last month, the social network wound up having 1 billion unique users log on in a single day. Picture-based social network Instagram, another Facebook-owned app, is also in the top 10.
Top 10 Apps by Global Downloads (since 2010)
Facebook
Facebook Messenger
YouTube
Instagram
Skype
WhatsApp Messenger
Find My iPhone
Google Maps
Twitter
iTunes U
Streaming music service Pandora, meanwhile, topped the list of the highest grossing iOS apps worldwide. Messaging app LINE is the second highest in terms of revenue, while dating app Zoosk comes in number three.
The top games list by download is a who's who of classic mobile gaming. Three-year-old game Candy Crush Saga has a solid hold on first place, with millions still downloading the game every month. The fun swipe-and-slash Fruit Ninja is number two, while pig-slaying physics game Angry Birds comes in number three. Clash of Clans is the top game in terms of worldwide revenue, though it's only sixth in terms of global downloads.
Top 10 Games by Global Downloads (since 2010)
Candy Crush Saga
Fruit Ninja
Angry Birds
Subway Surfers
Despicable Me
Clash of Clans
Temple Run
Angry Birds Rio
Temple Run 2
Words With Friends
Of course, just because these games and apps are popular doesn't necessarily mean they're the most useful ones for you. Last year, Techlicious named 10 free iPhone apps that everyone should download and 10 free Android apps that everyone should download that you should consider. You might also be interested in digital analytics firm comScore's reveal of the top 25 smartphone apps and Google Play's top Android apps and games of 2014.
[Image credit: Facebook, Woman using iPhone via Shutterstock]