With three kids and a dog, I always have a handheld vacuum cleaner on hand for quick clean-ups. However, when it comes to more demanding wet messes like a spilled bowl of spaghetti or muddy paw prints courtesy of my furry friend, my regular vacuum doesn't cut it. Enter the Bissell Pet Stain Eraser Duo, a versatile gadget that can tackle both dry and wet messes.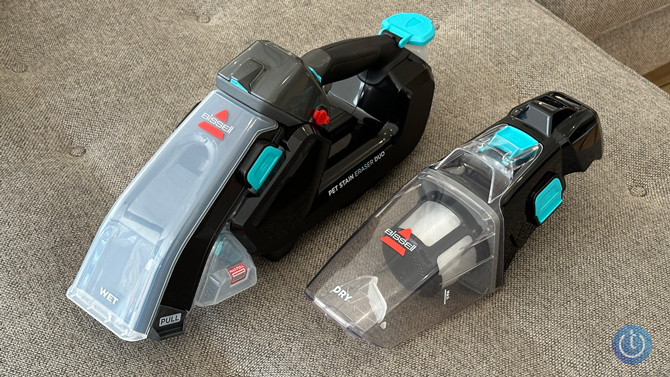 The Pet Stain Eraser Duo is essentially two machines rolled into one. It serves as a powerful handheld vacuum cleaner for your regular dry messes, with attachments to reach tight spaces and tackle pet hair. Yet, with a simple swap for the wet mess attachment, it transitions into a robust spot cleaner with a removable brush roll to tackle chunky, gooey messes on hard surfaces or carpets.
I've tested wet-dry hand vacs in the past, but none have been great at both tasks. With separate attachments, the Pet Stain Eraser Duo handles both dry vacuuming and wet effectively. Whether it's sugar spilled on the kitchen floor or pet vomit on the carpet that requires a deep clean, this gadget is up to the task.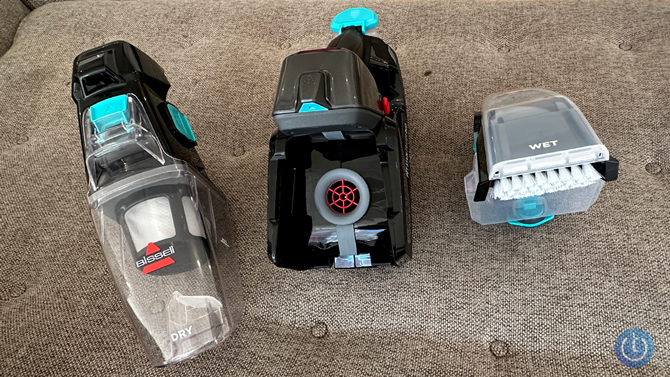 The Pet Stain Eraser Duo is compatible with Bissell's specialized cleaning formulas, including the Pet Pro Oxy Spot and Stain cleaner. I've used this formula as a standalone spray cleaner and in other portable wet cleaners for the last few years. I am a fan of its efficacy and odor removal. It employs the power of oxygen to break down stains more effectively than plain water, ensuring not only surface cleaning but a thorough removal of soaked-in spills.
The wet attachment comes apart for easy hand washing. I wish you could put it through the dishwasher, like the Black & Decker Spillbuster, but that's a minor quibble.
The Pet Stain Eraser Duo comes with a rechargeable battery, providing about 15 minutes of run time per charge. It requires around four hours to recharge, a standard duration for handheld vacuums.
You'll find the Pet Stain Eraser Duo priced at $139 on Bissell and Amazon. It's a bargain, considering it does the work of two products in one.
[Image credit: Suzanne Kantra/Techlicious]
For the past 20+ years, Techlicious founder Suzanne Kantra has been exploring and writing about the world's most exciting and important science and technology issues. Prior to Techlicious, Suzanne was the Technology Editor for Martha Stewart Living Omnimedia and the Senior Technology Editor for Popular Science. Suzanne has been featured on CNN, CBS, and NBC.