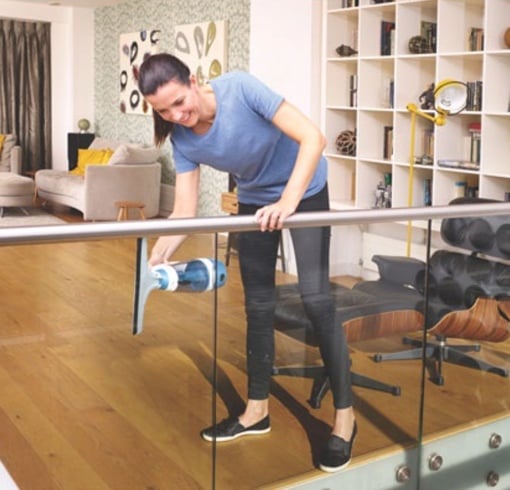 I have a shameful admission to make. More often than not, the mirror in my bathroom is dirty with dried water stains and the occasional white speck of toothpaste. Sure, I wipe it down with Windex and a paper towel whenever I do a full cleaning, but the whole thing is a hassle. I don't like the paper towel mess and I don't like using harsh chemicals.
The folks at Black+Decker have unveiled its new Powered Squeegee Vac, a new gadget designed to simplify the process of cleaning mirrors, windows, glass and other smooth surfaces. It sprays water or cleaner, wipes surfaces clean and vacuums up the leftover liquid, leaving sparkling-clean surfaces without eating through a roll of paper towels.
The hand-held vacuum relies on a lithium ion battery for its power, so you can easily use it indoors and out. It lasts for about 25 minutes per charge. That may not sound like a long time, but the Powered Squeegee Vac's 11-inch rotating cleaning head with microfiber scrubbing pads make quick work of pollen-covered car windows, Crest-encrusted bathroom mirrors, soap scummy shower doors and those occasional kitchen spills.
The Black+Decker Powered Squeegee Vac (BDH100WW) can be found at Home Depot, Ace Hardware and at other independent Black+Decker retailers or on Amazon for $69.99. For more information on specs, price and local availability, visit the Black+Decker website. You might also want to check out our cleaning gadget roundup page, with the latest news on vacuums, washers, dryers and other cleaning products.
[Image credit: Black+Decker]