Even the smartest virtual assistants aren't all that smart. Google's Assistant, Samsung's Bixby, Amazon's Alexa and Apple's Siri can handle a lot of tasks, but they're limited to certain commands and abilities. Now, Amazon is letting you personalize your experience by giving you the tools to easily make your own apps.
Amazon's Alexa has always been able to handle more tasks than the competition, in large part because it was simple for app developers to make their own Alexa skills. This meant that the voice assistant could call a rideshare (via Uber or Lyft), order a pizza (via Dominos or Pizza Hut), make travel plans (via Kayak), find recipes (via AllRecipies), check your bank balance (via a number of different banks) and a lot more before the competition. Google's Assistant, Samsung's Bixby, and Apple's Siri only work with a limited number of apps — and Siri only with Apple-made apps — which leaves them limited. With over 25,000 available skills, Alexa can just do more than your average voice assistant.
And now Amazon is letting you build your own Alexa skills, no coding experience required. Alexa Blueprints has a range of skill templates that let you create your own custom skills by following a "blueprint" — essentially a form you fill out. While there are only 20 skill blueprints available so far, it's still a level of personalization other digital assistants can't match. And because Amazon intends to keep adding Alexa blueprints, even more customization options are on the horizon.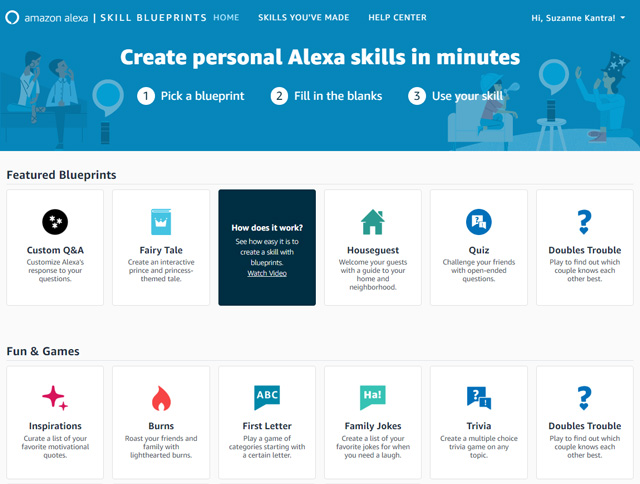 Our only complaint is that a lot of these skills don't seem particularly useful, and one of our favorite things about Alexa is how much easier it can make our everyday lives. The majority of these new blueprints, however, focus on fun and games. There are several blueprints that let you make custom trivia games, as well as blueprints to teach Alexa your favorite jokes or inspirational quotes. The focus on fun seems very much in line with Amazon's Echo Buttons ($20 on Amazon), which are designed to let you "buzz in" to answer questions in games like Trivial Pursuit. Though none of these blueprints appear to support Echo Buttons right now, the two seem like a natural fit. (Check out our story on 10 fun free games to play with Alexa)
But despite the prevalence of games in the blueprint lineup, there are a few skills that are certain to be useful. You can make custom skills designed to help houseguests and babysitters, giving Alexa the knowledge to explain where things are and answer other common questions. Using the babysitter blueprint as an example, Alexa can provide information about your child's schedule at different times of the day, such as what your child likes for breakfast or when nap time is. You can add information about your child's allergies, the medications they take, and list locations for diapers or other supplies. All of the fields are set up — you just need to fill them in with whatever information you'd like. Think of it as a high-tech version of the list of notes you might stick to the fridge before you leave the babysitter on their own.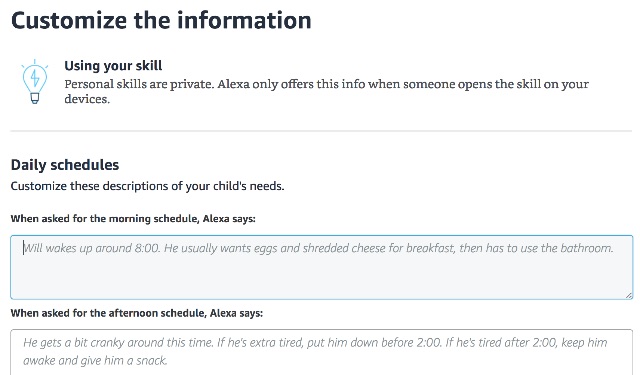 Several storyteller skills could become bedtime (or anytime) staples for families. There are blueprints for stories in several genres, featuring a template story that you can customize as much as you'd like, even adding sound effects. These are Mad Libs-style adventures, where the listener gives a few different words to create a unique story, which Alexa reads. It's a place where you and your child can write creative stories where they're the star, then let Alexa read them for story time.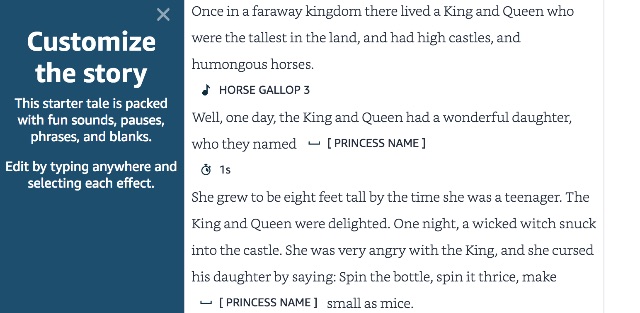 However, the most useful blueprints seem to be for students, who can now create their own digital flashcards and quizzes. Each flashcard skill has its own topic, with as many cards as you'd like to add. Each card has a term, a definition, and, if you'd like, a hint. Quizzes are similar, but you enter information in question and answer format and can add extra facts if you'd like. Quizzes can be done by an individual or played as a competitive game, with Alexa asking each player questions in turn. From memorizing multiplication tables to acing their next history test, these skills could come in really handy.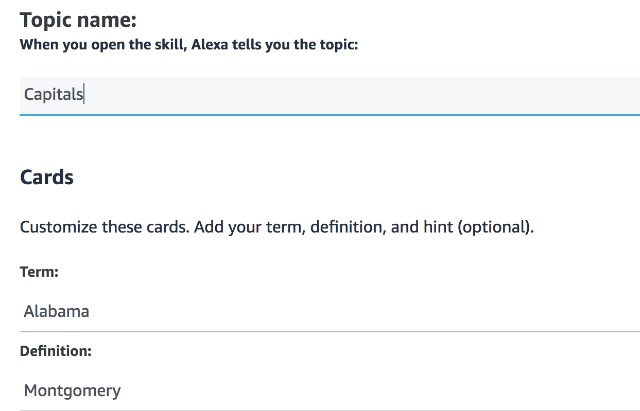 To create your own Alexa skills, just go to the blueprints page and pick the kind of skill you want to create. From there, Amazon will show you an example and walk you through customizing a skill of your own. Once you are finished, your skill should be available on your Alexa device in just a few minutes. (If you can't access your skill, check the Skills You've Made page to be sure it's done processing and has the correct name.) One potential skill snag is that Alexa may have trouble with certain words or phrases, making it important to name your skills simply and be sure you use the precise phrases you set the skill up with — otherwise Alexa won't know what you're talking about.
Skills you create are only accessible via Alexa devices registered to your Amazon account, so your information is completely private. This could be a nuisance if you make a trivia game you'd like to share with friends, but it ensures personal information about your home and child is kept private because there's no way to share anything.
You can create your own Alexa skills right now at no added cost. Skills will work on any Alexa device, from the budget-friendly Echo Dot (currently $40 on Amazon) to the pricey Echo Show ($230 on Amazon). Or, if you're looking for something beyond a countertop speaker, check out our picks for the 6 best Alexa-enable speakers beyond the Amazon Echo.
[image credit: Amazon]