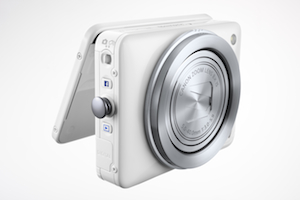 Do you need a camera when you can take really good photos with your smartphone? Camera makers like Canon are answering yes with point-and-shoots that deliver the easy sharing features of a smartphone with higher image quality. Case in point Canon's new PowerShot N Facebook Ready, a cute little camera with one-button send to Facebook.
The PowerShot N Facebook Ready is a variant of the PowerShot N, introduced earlier this year. The pair of fun 12.1-megapixel snappers offers quick video capture in a smaller form factor than even slim most point-and-shoots offer. They have 2.8-inch LCDs that flip up for selfies or down for getting shots at odd angles. Plus, there's no wrong way to hold the cameras, so shots come out right side up even if you hold them upside down. A ring around the lens controls zoom the 8x 28mm wide-angle optical zoom lens and the shutter. And Creative Shot offers a few fun picture and video extras. And, of course, both cameras are WiFi-enabled for transferring images or printing pictures.
It's possible to send photos to Facebook via the Canon Image Gateway on the original N, but on the new Facebook Ready version the process is more direct. Just press the Facebook button on the side (after an initial setup) and your pictures upload to your account. To send images to other social networks and cloud-based services you can go through the Image Gateway, as you can with the original N. But if you, like millions of others, upload far more pictures to Facebook, this camera is designed for you.
The Canon PowerShot N Facebook ready is available for pre-order on usa.canon.com for $299 or Amazon for $285.