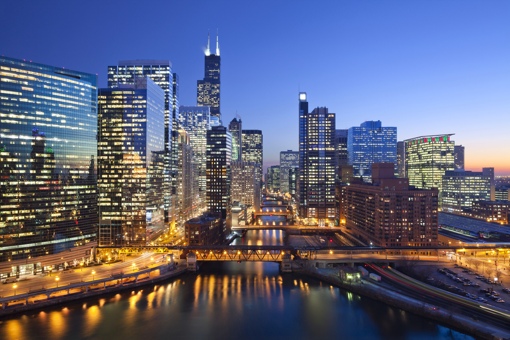 The city of Chicago is installing a series of light pole-mounted sensors this summer designed to collect data about weather, pollution, sound volume and -- controversially – data on the number of smartphone devices that pass by.
As reported by the Chicago Tribune, the sensors are being installed along the highly trafficked Michigan Avenue as a research partnership between the Argonne National Laboratory and the University of Chicago. The sculpture-like sensors will mainly collect real-time environmental data, like humidity and smog levels.
"Our intention is to understand cities better," says Charlie Catlett, director of the Urban Center for Computation and Data behind the devices. "Part of the goal is to make these things essentially a public utility."
Scientists like Catlett believe the data collection effort will make the city safer and more efficient. But some are worried about the privacy implications of the system, which will use an antenna to detect nearby mobile devices. The sensors will not track movement or MAC addresses – they're designed to take a raw head count only. No personally identifiable information will be collected.
The first eight sensors are to be installed by mid-July. Catlett expects "hundreds" of the devices to be in use in a few years' time as the program expands to nearby city neighborhoods.
You can learn more about the data collection effort by watching the news clip below.
[City of Chicago via Shutterstock]