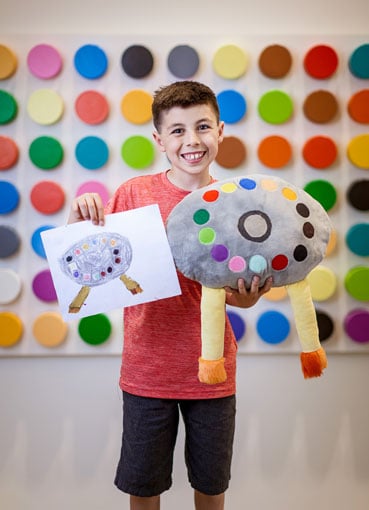 Just what do you with your children's artistic creations? You may have their best works hanging on the fridge, tacked up in your office or decorating their bedroom walls, but Crayola is offering a new way to bring that art to life with Imaginables. This isn't a new set of colors: Imaginables are custom-designed stuffed animals based on your children's artwork.
There's nothing complicated about making an Imaginable. All you have to do is take a photo of your child's art—whether it's a drawing, a sculpture, or just about anything else—to send to Crayola (via the web, email or text message). Really, that's it. It doesn't matter how many colors your child used or how complicated their creation is. Each piece of artwork is reviewed by a team of designers and seamstresses, who will translate it to plush from. Each plush is made out of a hypoallergenic polyester soft plush—the designers have over 30 Crayola colors to work with—and stuffed with hypoallergenic polyester.
If you want to give the designers a little help, however, you can include a description to help explain the art—which is a good place to get your child involved. Let them describe their art, from features to colors to mood, and you can type it up for Crayola so the final plush is just what they want. Once you've submitted your order, you'll get email updates throughout the process, showing your plushie from design to final quality testing.
Because each plush is completely custom, Imaginables take some time: if you order today, you can expect your Imaginable to show up in about four weeks. While that means there's no instant gratification, as long as you aren't set on having a surprise gift, the process of having an Imaginable made will be fun for your young artists, too.
Of course, the problem with customized gifts like this is usually the price, and Imaginables are no exception. Right now a 16" plush is available online for the discounted price of $89 (it will jump to $99 on June 15) and a 30" plush is available for $118 (or $128 after June 15). That's a big number for a parent on a budget, but compared to the not quite as custom options at Build-a-Bear Workshop—where it's easy to spend $50 building and accessorizing your creation—$89 for something completely custom doesn't seem outlandish.
If you're already sorting through the art on the fridge for the perfect piece to turn into an Imaginable, Crayola is taking orders now — and it could make the perfect gift.