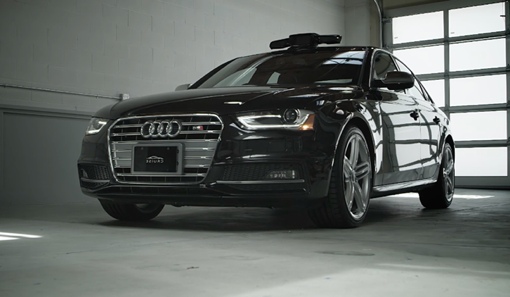 Depending on who or what company you ask, self-driving cars are anywhere between 3 and 6 years from showing up at your local dealership. But a new startup based out of San Francisco wants to up the timeline. Meet the Cruise RP-1, an aftermarket self-driving car kit for Audi vehicles that will be ready for installation early next year.
The RP-1 retrofit consists of a roof-mounted camera and radar bar, a computer system that hides in your trunk and a series of actuators to control your car's breaking and acceleration systems, keeping your car in its lane and preventing you from colliding with non-autonomous vehicles and obstacles around you. The company has mapped roads around San Francisco, helping the car understand road contours and curves for safety's sake. If the sensors lose track of lanes – say, due to construction work changes – audio and visual alerts will warn you to take over manual control of your vehicle.
Cruise RP-1 works with any 2012 or newer A4 or S4 car from Audi. The system only works on highways in California (for now), making it far more limited than Google's 'anywhere' self-driving car tech. It's not cheap either – your own RP-1 kit will set you back a whopping $10,000.
For more on the Cruise self-driving car tech, check out Re/code's coverage, the short video below or the company's website at getcruise.com.