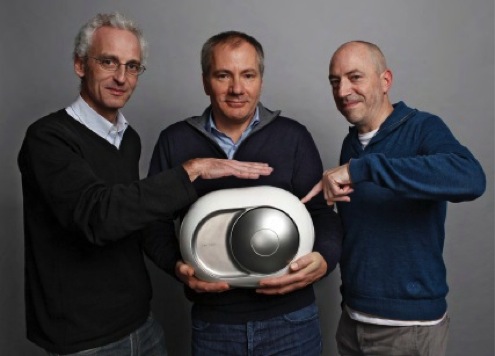 Would you pay almost $2,000 for a speaker that promises sound quality equal to systems costing 5-10 times as much? In a package a fraction of their size? You would, if you had a listen to Phantom, the new "entry-level" speaker system from Devialet. Look out, Bose.
If you never heard of Devialet, you're not alone. In 2007, a few very bright French guys got together and formed what has been recognized as a leading high end audio innovator today, Devialet, with patents galore and 40 engineers pushing the boundaries of what was thought possible in high end audio. It has earned the respect of those in the know, and now we consumers in the US can get a taste.
Phantom is a wireless speaker and sound system that works with any of your devices via Wifi or Ethernet. Use it in place of your stereo, docks, home cinema, or speakers. It can be used alone or linked in multiples for stereo or a multi-room sound system.
The incredible sound is powerful, distinct and clear at any volume, without distortion, even at high levels. It's the result of several incredibly complex and advanced Devialet innovations (read about them via PDF here), including a high pressure chamber that generates the ultra-dense sound.
Two models will ship later this month, the 750W Phantom ($1,990) and the 3000W Phantom Silver ($2,390). More "low end" models are reportedly in the long range pipeline. The ecosystem includes Devialet's advanced Wi-Fi system and SPARK music app. That Phantom even looks sleek – leave it to the French.
[Image credit: Devialet]