Have you coveted one of those extra-durable outdoor TVs for hanging on your own deck or balcony? Until now, the prices for these sturdy beasts have been super steep – in the $1,700-$6,000 range for a 55-incher; for instance, Samsung's The Terrace is $3,500. But now Roku and Element Electronics have launched an elements-surviving (sorry) wall-hangable 55-inch 4K Ultra High Definition outdoor model, the Patio Series model EP400AB55R, that's yours to enjoy for a more affordable $1,299.99 at Walmart. And, of course, it has our favorite streaming media player, Roku OS, built-in.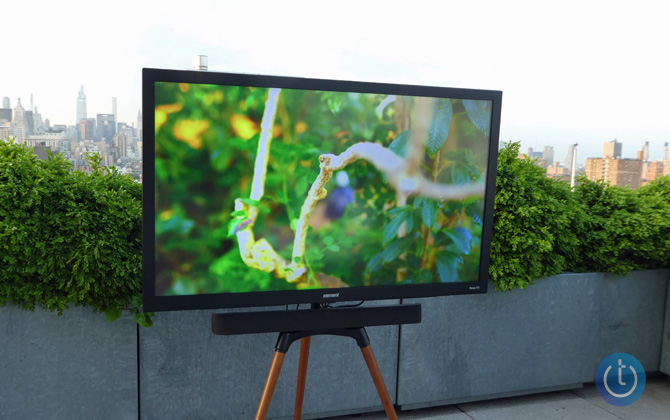 Cranking enough brightness is issue number one for outdoor TVs. Although indoor sets can get away with 300 Nits of brightness, outdoor sets rated to 500 Nits are usable only in fully shaded zones. (A nit is equal to one candela or candlepower per square meter. So, think a birthday cake with 300 or 500 candles on top, viewed from 3.33 feet away.)
The Element Patio model puts out 700 Nits which makes it useful in Partial Sun conditions – outside on a cloudy day, just not so great with the sun directly beaming onto the screen even with its anti-glare coating. (To deliver a decent image in full sun, gotta bump up to a 2,000 Nits or higher image blaster like the SunVue R-R-NXG-5580-20-25S-FS, also with built-in Roku, which will run you $4,999.)
We went hands-on with the Patio model and found the display to be plenty bright in waning afternoon sun. While the TV has an anti-glare coating, some reflections were visible depending on the content displayed.
The viewing angle was good. There was little drop-off in color accuracy and brightness as you moved off-axis.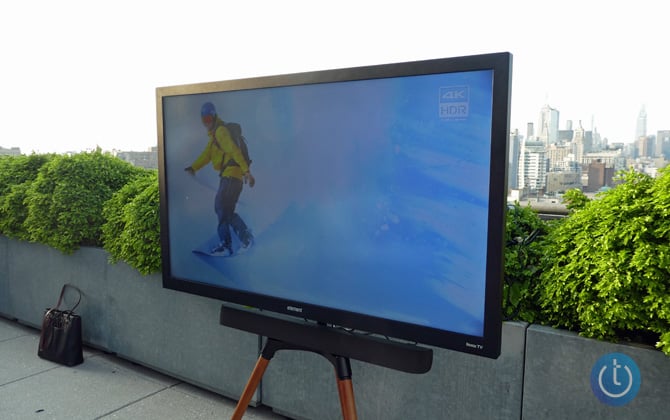 Serious weatherproofing of the case and durability of the component parts are also essentials for a set that's living outdoors. With its IP55 rating, it is tested to handle everything from rainstorms to high humidity to insects and dust. It operates in climactic conditions from -4 degrees Fahrenheit to 104 degrees F. And the tempered safety glass front casing is "four times stronger than standard glass to ensure maximum TV protection", according to Element, if a flying object comes its way (we didn't test the shatter resistance, for obvious reasons). Tellingly, the product literature warns that you'll need a mounting bracket (not supplied) capable of supporting a 71.6-pound package – double the weight of most indoor 55-inch models.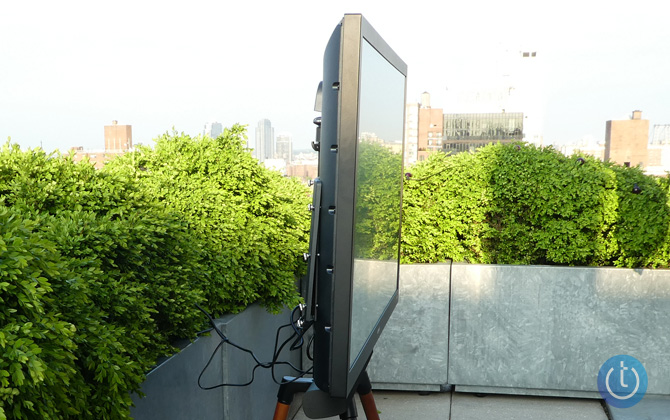 Element claims the built-in speakers promise to "cut through outdoor noise to maximize audio performance." What we found is that the sound output is decent if you're watching a game with a small group of friends, but guests would have difficulty hearing the TV if you're hosting a bigger party. Tellingly, Element attached a separate soundbar for the launch event we attended, and we would recommend investing in an outdoor soundbar or speakers for optimal performance.
Operation is easy with the Roku voice remote or the free Roku Mobile App for iOS and Android devices. Unfortunately, the remote is not water-resistant, but it does come with a flexible silicone case to protect against spills and light rain and lets you operate the buttons relatively easily.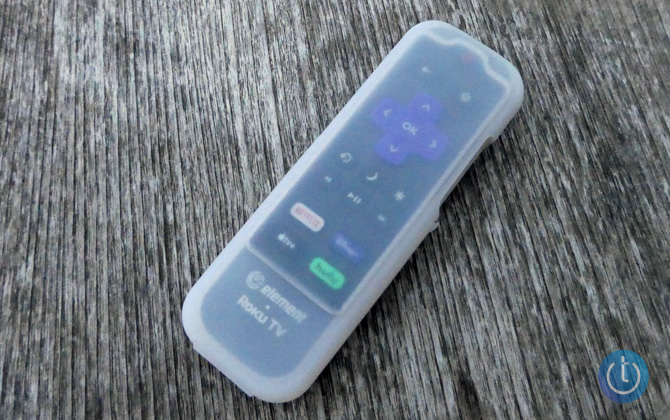 If you're looking for an outdoor TV and don't have thousands to spend, the Element Roku Patio model TV is a great value compared to its competition from Samsung and others. It won't deliver the best picture out there or run up to 2,000 Nits for bright sun, but it's plenty bright in partial sunlight and loud enough for casual outdoor viewing. And the highly-functional Roku interface is an added bonus.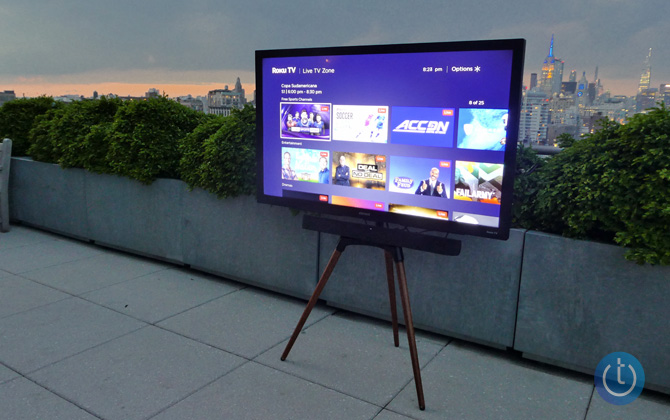 [Image credit: Suzanne Kantra/Techlicious]
Jonathan Takiff is a seasoned chronicler of consumer electronics (30+ years), longtime staffer for Philadelphia newspapers, syndicated columnist and magazine/website contributor.