It's easy to buy a budget-friendly printer, but hard to save money by doing it — because printers themselves may be cheap, but the ink can cost a fortune. You can buy a basic inkjet printer for as little as $30, but you may pay $25 for your first cartridge replacement. And that cartridge usually includes just a few milliliters of ink that will print around 200 pages. And that's just for a black and white printer — buying color ink costs even more. Worse, ink cartridges expire and if you don't print often enough, cartridges can dry out, sticking you with even more costs. That's a lot of money to maintain your $30 printer.
Instead of an inkjet printer, you could buy a laserjet printer, which doesn't have the disadvantages of ink. Instead, laserjets use toner cartridges, which are full of a dry powder that's transferred to the page using a laser. But laserjet printers are pricier, with the black and white models starting at $100 and color models starting at $200. On top of that, you can expect to spend at least $50 on a toner cartridge (and much more for color cartridges). Despite their high cost, laserjets are cheaper than inkjets in the long run because a basic toner cartridge can print around 3,000 pages — much more than the 200 pages the average inkjet cartridge can manage.
While each printer and cartridge varies in how much you can print, no matter which model you choose, you're spending a lot of money buying cartridges.
Consider an ink tank printer to save money
But shoppers have a third option: printers with refillable ink tanks rather than replaceable cartridges, which are both cheaper and more environmentally friendly than their inkjet and laserjet brethren.
Tank-based printers are more expensive than cheap inkjets, but their prices are similar to what you would spend on a high quality inkjet printer. Expect to spend at least $150 on a tank-based printer, with prices going up from there based on the features you want. But despite the up-front cost, these printers will save you a lot of money over time — particularly if you need to print a lot.
That's because each ink bottle costs from $10 to $20, and they last much longer than pricy ink cartridges: expect to get at least 6,000 pages per bottle. That makes each ink bottle equivalent to about 30 ink cartridges, which is substantial cash savings if you print often. And because you aren't constantly buying cartridges and throwing them in the trash, ink tank printers are eco-friendly, too.
Most printer manufacturers now offer ink tank printers as well as the traditional inkjet and laserjet models, but these two are our favorites.
Best Budget Ink Tank Printer: Canon Pixma G1200 MegaTank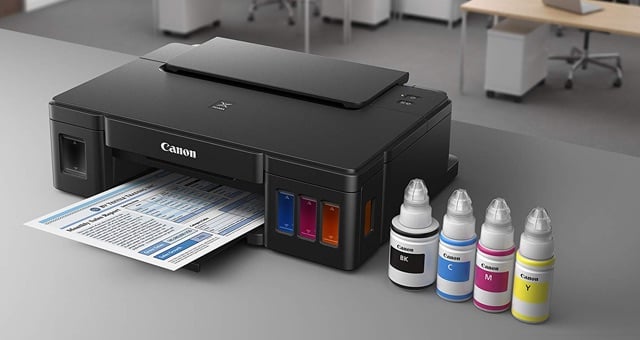 If you just need a basic printer and don't want to spend much on a printer or ink, this basic Canon model may be perfect. It does nothing but print, so don't expect scanning, copying, or wi-fi access. However, it prints in both black and white and color for a very reasonable cost.
It can print up to 6,000 black and white pages or 7,000 color pages on a single set of ink bottles, which cost from $12 to $17 each (depending on the color). That's a bit more expensive than the ink for some of the pricier printers (like the Epson model below), but for the low up-front cost, it's hard to beat.
Price: $149.99 from Canon, check price on Amazon
Best Multifunction Ink Tank Printer: Epson EcoTank ET-2760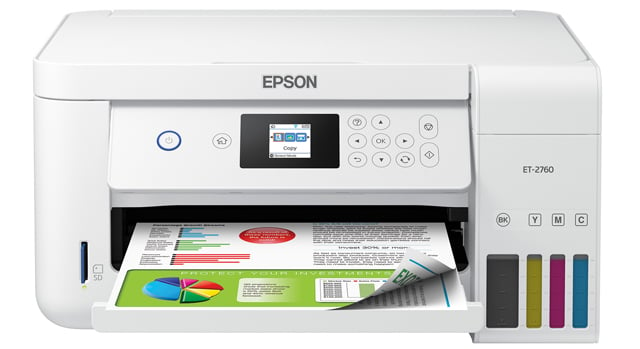 This all-in-one printer is ideal for the busy family who needs a printer that can do everything. The ET-2760 can scan and copy as well as print, plus it has wi-fi so you can print from any connected device in any room of the house. It even has voice-activated printing, so you can print without even touching a button.
While it's a lot pricier than the Canon model above, it's also cheaper to operate. Ink bottles cost from $10 to $15 each, depending on the color, and print up to 7,500 black and white pages or 6,000 color pages. With the ink that comes in the box, it could be years before you need to replace them.
Price: $249.99 from Epson, check price on Amazon
Image credit: Canon, Epson