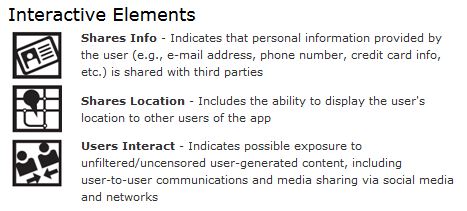 The ESRB (Entertainment Software Rating Board) expanded its video game ratings coverage this week to include interactivity and social connection ratings for digital games and apps. This should prove helpful for parents concerned about their child's privacy while playing digital games. According to a Pew Internet survey, nearly 80% of today's teens (age 12-17) have a mobile phone (50% of which are smartphones) and games are the top category of apps.
Available for iOS, Android and Windows phones, the updated ESRB rating search app now has these new features:
Interactive Elements symbols for digital games and apps so you'll know if the game "shares location," "shares info,' or if "users interact"
Expanded search filters for finding games by content type, platform, or a specific rating
Access to Rating Summaries for packaged games
Together, these three features should shed more light on how children can – and will – interact with each game app, and help parents, grandparents and gift givers to make more informed decisions about each game they download or purchase. ESRB offers rating information for more than 30,000 video games and apps through its free mobile app.