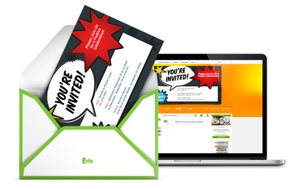 There's no more convenient way to send out party invites than to do it electronically, either through Facebook or using a service like Evite. Unfortunately, even in 2013, not everyone is connected to the internet – 15 percent of Americans don't use the internet at all. So how do you invite grandma to the birthday party if "she's not on the email?"
Today, Evite announced a new service that bridges the digital gap: Evite Ink. It harnesses the simplicity of Evite's template-based digital invitations, but with the added option of sending physical cards to real-life mailboxes for a small fee.
You start by choosing an invitation design and customizing it, adding the specifics of your party. You then give Evite Ink a list of physical mailing addresses. The company will send 4" x 6" printed invitations to each prospective party goer. Invitees have the option of RSVPing to you directly or through the web.
Each Evite Ink invitation will set you back $2.00 plus postage. That's a pretty solid deal when you consider the time and effort the service saves you – no licking envelopes and no trips to the post office. And, of course, they're more official and personal than a digital invite. After all, it's not a real party invitation if you can't stick it on the fridge with a magnet.