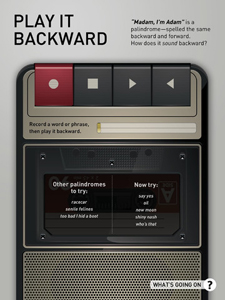 As most educators will tell you, some kids (and adults) learn better kinesthetically; that is, movement, touching and handling physical objects can help make sense of difficult concepts. Plus it's fun, as anyone who has ever visited Francisco's Exploratorium will tell you. The place is a paradise of hands-on exhibitions that demonstrate all sorts of science and perception phenomena. The museum's new, free app, Sound Uncovered, brings the Exploratorium's signature interactivity to the iPad with fun, fascinating results.
Broken into chapters, each page allows you to interact with a different sound concept. One favorite chapter, How Old Are Your Ears? uses a slider to adjust a tone's frequency. The higher the pitch, the more difficult to hear for older ears. My kids got a definite kick out of finding frequencies I'm unable unable to hear but they can.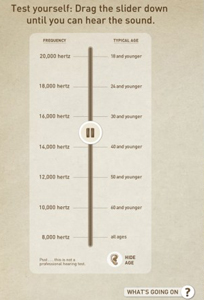 Other chapters include a fascinating look at car engine sound and the car manufacturer's thinking behind cabin noise levels. There's a also an intriguing examination of how the perceived sound differs when we're watching a speaker's mouth versus simply hearing his or her words. The demonstration illustrates nicely how what we see influences what we hear. Other pages include a look at backward recording and one on misophonia, or how sounds like gum chewing, heavy breathing, pen clicking, etc., can drive some of us to the brink of madness.
Each of the 12 pages features both an accessible and fun interactive demonstration, but also a deeper look into the science behind each audio concept. Very young children can have fun with the hands-on portion, while older kids and adults can read and explore further. Download it now, and check out the Exploratorium's great site, too.