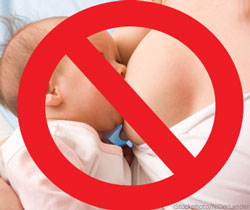 A California breastfeeding advocate has won her battle with Facebook, causing the social network to apologize for removing pictures of children nursing.
Kristy Kemp was given a 24-hour ban from Facebook after a poster on her breastfeeding support page, Breastfeeding/Mama Talk, uploaded a picture of a mother feeding her child. Shortly after the initial ban expired, Kemp was issued an even longer ban over a different picture showing a pair of children breastfeeding.
"I was outraged; I was shocked," Kemp said to her local Fox affiliate of her ban. "I'm trying to do good for mothers and I'm getting kicked off for posting pictures of the most beautiful act a mother can do for her kid. And it's not right."
Kemp struggled to get Facebook to lift the ban and OK her breastfeeding pictures until local media got involved. Once Kemp's cause was broadcast on television, Facebook did an about face and issued an apology.
"A member of our team accidentally removed something you posted on Facebook," read the message sent to Kemp from Facebook. "This was mistake [sic], and we sincerely apologize for this error."
Ironically, Kemp's Facebook group was created to provide support for breastfeeding mothers – especially those who face public shaming for feeding babies in public. The group features pictures of breastfeeding mothers on a daily basis, though these pictures are only viewable by those who join or view the Facebook group.
Facebook officially allows breastfeeding pictures so long as the areola is not exposed, as it has for some time. Neither of Kemp's photos violated this standard. Still, numerous breastfeeding activists complain that breastfeeding photos like Kemp's are routinely removed from the site, even when they comply with Facebook rules.