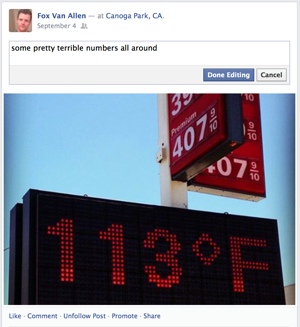 A long-awaited feature has finally come to Facebook: The social network now lets you edit your status updates and posts after you make them.
It appears that only some posts are editable at this time, though there's no indication as to what might make a post ineligible for correcting. To edit a Facebook post on the web, hover your mouse pointer over the post and click the down arrow icon that appears in the top right-hand corner. Click Edit from that menu, and let your inner copyeditor loose.
Once edited, your post will bear a new Edited tag, showing that you changed something about it after the fact. Clicking on the word Edited will let anyone see the edits that have been made to the post over time.
I have no idea why it took Facebook so long to implement editing, but I'm glad they did. After all, it's dopey to have to decide between letting a minor typo stand and deleting an entire post to get rid of one.
The ability to edit pots appears to currently be live both on the web and on Android. You can't edit posts over iOS as of yet, though that functionality will be coming within the next couple months.