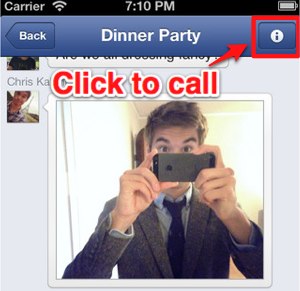 The Facebook Messenger standalone app got a big upgrade with free phone calling capability that uses your Wi-Fi or data connection instead of your phone's monthly minutes.
Free calling only works on the iPhone version and only with the Messenger app, not the Facebook app you use to view your Facebook news feed. The person you are trying to contact must have the Messenger app installed and be your Facebook friend. But if all those conditions are met, free phone calls are yours to enjoy by clicking the "i" button in the upper right corner in the app.
There are some drawbacks. There is no leaving a message if they don't pick up or way to tell if someone tried to call you. But if you are using the Messenger app to text a friend and the conversation could go faster over voice, that option is just a click away. And if someone is calling you via the app, you have the option to decline the call.
Only time will tell if this feature is rolled out to other mobile platforms or if features we associate with phone calls, like voice mail, are added.