If you've ever accidentally mistyped or simply had second thoughts about a Facebook Message you sent, you can now unsend messages. It's a feature Facebook has been talking about for a while — and one we know Mark Zuckerberg has long been using — but now it's available for everyone.
You will have to be quick about removing messages though, as you only have a 10-minute window to unsend. That makes it perfect for getting rid of mistakes, especially since you can easily check to see if your Facebook message has been read before you delete it. But if you have regrets about a message you sent a friend last week, you're still out of luck. This probably isn't a feature you'll use every day, but it will come in handy when you need it.
Unsend works on the web or in the Messenger app for Android or iOS, and it's pretty simple to use. Here's how to unsend your messages.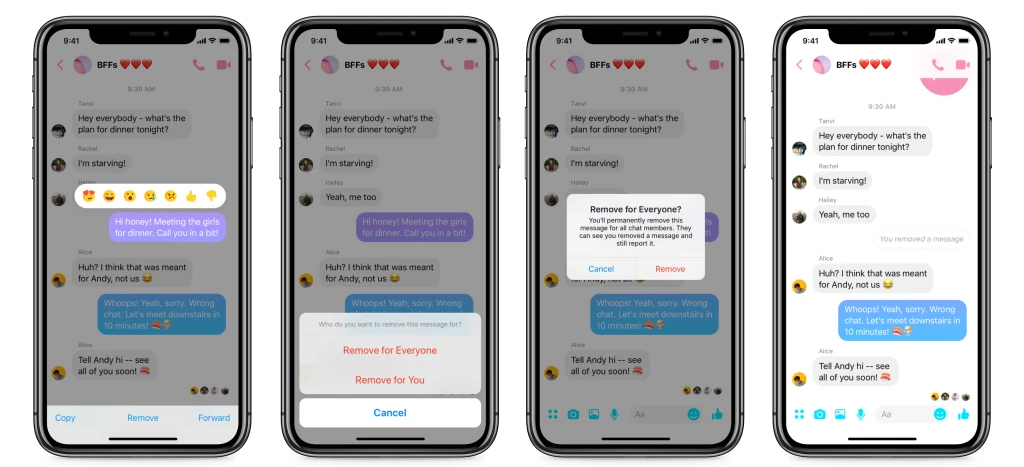 On the web:
Click the more icon — it looks like three dots — to the left of the message you want to delete.
Select "Remove" or "Remove for Everyone"
Click "Remove" at the bottom of the window
In the app:
Press and hold the message, like you were going to send a reaction to it
Select "Remove" or "Remove for Everyone" at the bottom of the screen
Click "Remove" in the pop-up
Once you've removed a message, everyone in the conversation will see a note that you removed a message. So your messaging faux pas won't be completely invisible, but the message itself is gone. And in case any users think to abuse this feature by sending messages that violate Facebook's community guidelines and then deleting them, you can report a deleted message — and Facebook saves deleted messages behind the scene so reports can be reviewed.
This feature is available now, so you should be able to use it the next time you slip up and send a message to the wrong person.
[Image credit: Messenger on a mobile device via BigStockPhoto, Facebook