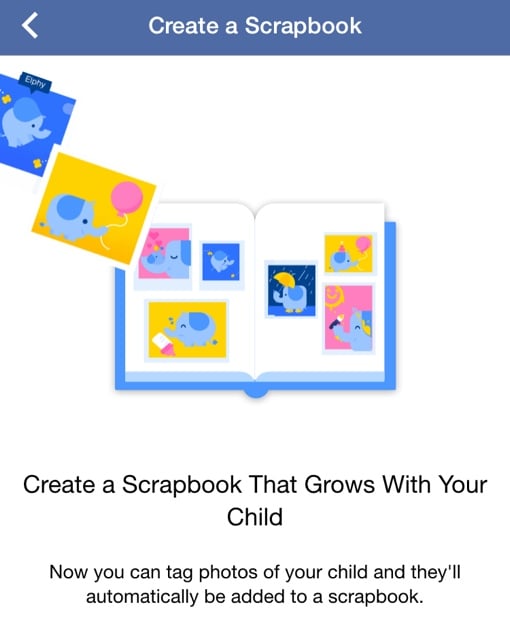 It's against Facebook site rules for a child under the age of 13 to have an account there. That said, many parents have been looking for a way to give their kids some kind of presence on the site to share with family and friends. For this reason, Facebook has created a new feature called Scrapbook. There, you'll be able to automatically keep a collection of pictures of your new baby, growing toddler or active pre-teen as an album to share with close friends and family through the photo tagging process. The new feature is starting to roll out now in the U.S on Android, iOS and on the desktop version of the Facebook site.
To start your first Facebook Scrapbook, you'll need to log in and navigate to your About section, accessible when viewing your profile page on the site. Then, choose the Family and Relationships link, located in the About section of the desktop site. (Otherwise, you'll need to choose the "More about you" link in the About section in the mobile app.) There, you should find a "Create a Scrapbook for Your Child" graphic, which will provide you with a quick overview of the Scrapbook process and help walk you through the setup procedure. You can create a Scrapbook for each of your kids using the Settings button on an existing Scrapbook page, or through Family and Relationships.
Once you set up a Scrapbook, only you and your partner (if you've added them as such on your account profile) will be able to tag your child in photos you've uploaded to the site. Created Scrapbooks will appear as albums on your account, that you can then share or let family members discover on their own. Note that you can choose the sharing settings for each photo you add to the Scrapbook just as you normally do, in case you don't want all your Facebook friends or the general public being able to look at pictures of your kids.
For now, creating a Scrapbook is a good way to put your child's photos all in one place. But it could be even more useful in the feature as your child grows. According to TechCrunch, Facebook is working on a spinoff feature that will one day allow you to export these photos of your child into their own Facebook account when they're finally old enough for one.
To learn more about Facebook Scrapbook, how to use it and how to manage the privacy of your family photos, visit the Scrapbooks help page on the Facebook website. You can also watch the short video from Facebook embedded below.
[Image credit: Facebook]