Whenever I get a new key, the first thing I always do is make a copy of it. Reliable though I try to be, somehow, keys escape me. They get locked in cars. They get dropped down grates. They get eaten by pets. They slip into parallel universes. The only way I can guarantee I'll get back into my home at night is to make sure a trusted family member has a copy of my key.
That general concept is what drives Trusted Contacts, a new Facebook feature that allows you to, essentially, give a copy of your Facebook key to five of your most trusted friends in case you get locked out.
Here's how the system works. In your Security Settings, you can choose anywhere between three and five people to serve as Trusted Contacts. Should you be unable to access your account due to a hacking or lost password, your Trusted Contacts will be able to give you a special security code to log in to your Facebook account. Collect codes from three different people, and you'll be able to recover your profile.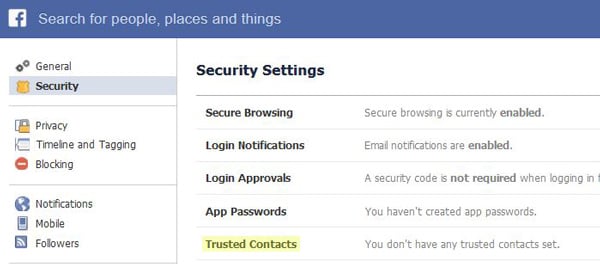 The new feature isn't designed to replace the existing "Forgot your Password?" option, merely to supplement it. And it's entirely optional – you need to go to your Security Settings and enter your password to activate it.
If you choose to add Trusted Contacts to your account, you should select the five people whom you most trust to be available in a pinch. It's also a good idea to revisit your Trusted Contacts list every few months to keep it up to date and check your privacy settings. And most importantly, make sure you trust your Trusted Contacts enough not to use their powers for evil. After all, there's nothing preventing your Trusted Contacts from sharing codes amongst themselves to unlock your account.