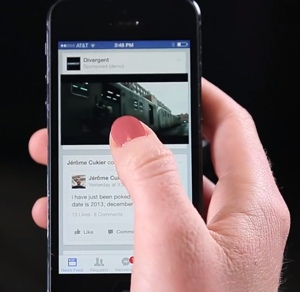 Facebook, the world's largest social network, has started posting warning messages on videos that include violence and other potentially shocking or offensive content. The warning is displayed before the video starts, preventing it automatically starting as videos typically do on the social network. As an added protection, those under 18 years of age will be unable to play these graphic videos.
"When people share things on Facebook, we expect that they will share it responsibly, including choosing who will see that content," a Facebook spokesperson explained. "We also ask that people warn their audience about what they are about to see if it includes graphic violence. In instances when people report graphic content to us that should include warnings or is not appropriate for people under the age of 18, we may add a warning for adults and prevent young people from viewing the content."
The warnings began appearing on the social network in December. They're only now gaining notice thanks to a widely distributed video in which a terrorist connected to the now infamous Charlie Hebdo attack is seen shooting and killing a Paris policeman. That video now carries a warning.
The warnings do not currently apply to YouTube videos and other similar external content. A Facebook spokesperson confirmed to the BBC that such a feature is currently being explored, as are warnings for graphic still photos.
Facebook has long walked a very thin line when it comes to controversial but newsworthy content. In 2013, the social network briefly allowed a video showing a Mexican beheading, saying the public should be the final arbiter of whether to view, condemn or ignore the content. It later reversed itself after public pressure, banning beheading videos entirely.
[Image credit: Facebook]