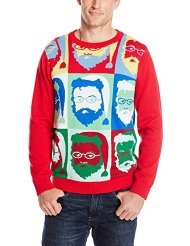 Apparently, ugly christmas sweaters will never go out of style (is "in style" the right term?). This year, Rent the Runway is even offering ugly Christmas sweater rentals!
However, at $15 a rental, that seems like a lot to pay when you can buy a perfectly good (bad?) ugly Christmas sweater of your own for under $30. A sweater you'll have the pleasure of wearing year after year to embarrass both yourself and loved ones at family events and parties.
If you're looking for ugly Christmas sweater ideas (or a non-sectarian ugly "holiday" sweater), Amazon once again has an Ugly Christmas Sweater sub-category, filled with the best (worst?) selection of holiday-themed sweaters. Both men and women will be suitably pleased (disgusted?) by the selection of fashion masterpieces.
Our Jewish readers will find the ugly Hanukkah sweater selection at Amazon less robust. But what it lacks in quantity, it surely makes up for in quality.
Wishing everyone a tacky holiday season!