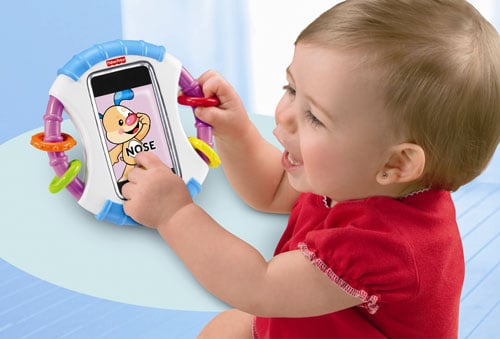 Somewhere between 18 months and 2 years old, my son stopped being placated by the "play" phone I would give him when he wanted to use my iPhone. He was no dummy. He'd gotten a taste of my iPhone and its apps and a toy phone replacement just wasn't going to cut it.
I wish Fisher Price's Laugh & Learn Baby iCan Play case for iPhone had been around then. It's specifically designed for babies, with large handles for easy gripping, rings for chewing and even a mirror on the back for those times when the phone gets turned around by accident. It also provides "slobber protection" against those active teethers.
The best part of the Laugh & Learn iCan Play case is the little piece of plastic that covers up the "home" button. If you've tried giving a child your iPhone without this protection, you know how frustrating it can be when your child keeps hitting the home button and getting taken out of the app.
Fisher Price has a series of apps designed for babies six-months and up, though there are many other options available in the iTunes App Store.
If you've succumbed to the temptation to give your baby your iPhone, the iCan Play case will be a must-have accessory when it comes out this summer for $14.99.