When you need a home repair done immediately, it's natural to turn to Google search for that needed locksmith or plumber. Google Search obligingly returns with a list of results sorted by nearness, which means it's the perfect way to find a tradesperson who can get you back into the house as quickly as possible—or is it?
A rise in fraudulent listings means that chances are, you might end up reaching someone who is barely trained at the trade, but is instead part of a fraudulent operation run by out-of-state call centers that submit fake business locations to Google Maps in order to turn up first in local searches.
These call centers are called lead generators, or lead gens, and they exist to wrangle exorbitant repair fees from customers who are often too desperate to get into their homes to raise a protest. According to the New York Times customers that get in touch typically receive a quote in the range of $35 to $90 only for the fee to skyrocket once the subcontractor finishes the job. The lead gens have teams of sub-contractors on call who are minimally trained in locksmithing – so that along with paying through the nose, customers may receive a shoddy, cut-rate install that breaks down later. An attorney quoted by the Times said that lead-gen locksmiths have crews in large and mid-size cities across the United States.
Locksmith is a heavily scammed keyword, but not the only one
Such lead gens have been undermining the veracity of Google Maps for some time. While "locksmith" is one of the most heavily spammed keywords in the world of search engine optimization, similar operations have sprung up in other home repair industries such as plumbing, garage door repair and carpet cleaning. In short, any service where customers just want the closest tradesman to sort the problem out could be at risk from lead gens spamming Google Maps.
These spammers take advantage of features that make as Google Maps comprehensive and helpful tool as it is: Google My Business, which allows people to register their own companies; and Map Maker, where any user can edit and add places, landmarks and businesses.
It isn't hard to put up a fake listing – you only need a phone number for verification - as an SEO expert shows here. It took eight reports of bad data and three days for the fake listing to be taken down. (If you stumble across a lead-gen operation, here's how you can report problems with Google Maps data.)
Google has a huge team of volunteer editors who scan and verify Maps listings in an altruistic bid to rid the Internet of inaccuracies. But up against an army of scammers determined to do the very opposite – some of whom sign up to be editors in order to okay their own fraudulent listings – it's becoming an increasingly elusive goal. In fact, according to the Consumer Federation of America, such fraudulent services are one of the fastest-growing reasons for complaints.
Research your searches
High-tech scammers are as wily at getting around Google's spam detectors as Google is at updating them. But a little online research can uncover some telling signs that a listing isn't as local – or as quality – as it claims to be.
Double-check an address on Street View
Typing an address into Google's panoramic imagery of the real world can confirm whether there is actually an establishment where claimed. But savvy spammers can dodge that too. The Times quotes the case of now defunct lead gen Locksmith Force, whose website listed six physical addresses including "a pinkish, two-story building at 10275 West Santa Fe Drive, Sun City, Ariz.." . A quick check on Street View indeed revealed that pink building – but when the author drove the street, there was no such landmark. The image had been created in Photoshop and slipped into Street View.
Research domain names
Look up domain names on databases such as WhoIs to find their owners. Research these businesses to see how many else they own. The Times quotes an example of a lead gen operator who was found to own 800 domains – clearly a suspect operation.
Look up reviews on other sites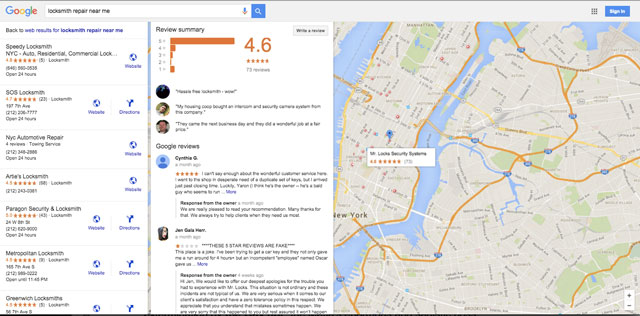 Google, Yelp, Trustpilot, and other user review sites can help diagnose whether a listing is real or manufactured – but beware of the estimated 30% that are fake reviews, made by users paid to talk up a business, or the owners of the businesses themselves. Some signs of a faux review include references to family members' opinions, overly positive language and over-use of the words "I" or "me" - apparently fibbers are more likely to put themselves into their fake stories.
Do a Google search
If you're shivering outside your locked home at 2am, you probably don't have time to cross-check a screen of search results. Try a straight up Google search for the business name and you may find other links that hint to its veracity - for example, it may already be the subject of a Consumer Federation review for suspicious activity, or negatively reviewed across multiple user review sites.
At the door...
Finally, ask for ID when your repairman arrives, don't pay cash up front, and confirm the price before he starts.
Have you experienced a lead-gen scam? Let us know in the comments.
[Images: Google]