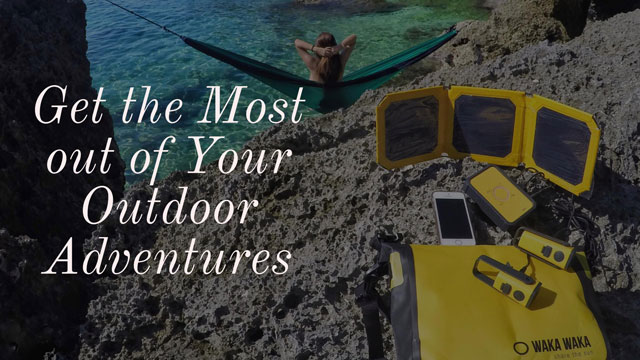 Heading into the great outdoors this summer? Even though you may mean to get off the grid, packing a few tech toys can help you capture every scenic vista and even stay safe. These are our recommendations for your next camping trip.
For Catching Great Shots with your iPhone: Olloclip Photo Lenses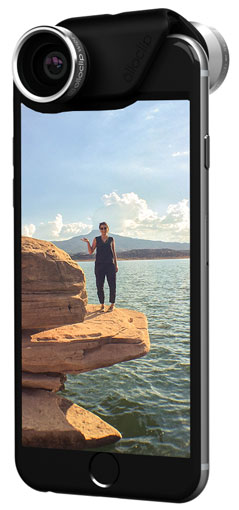 If you're out camping or hiking, you may not want to carry a bulky camera with you. And while your iPhone has a good camera, it isn't the best. So what do you do? Invest in an Olloclip Photo Lens, which snaps on to your iPhone for better photos. When you're not using your lenses, they hang around your neck like a pendant keeping them out of the way but still easy to get to—a handy feature that means you're never juggling lenses.
The Olloclip comes in several varieties, however, and the one you want is going to depend on the type of photos you're taking. The Olloclip 4-in-1 is perfect if you want a wide range of options. In addition to a wide-angle lens and fisheye lens, the 4-in-1 comes with two macro lenses—a 10x and a 15x. This makes it a good choice for macro photography—taking close up shots of flowers, insects or even rain dripping down a blade of grass. However, for even more macro options, the Macro Pro Lens includes a 7x, 14x and 21x macro lens for extreme close-ups. If you're looking to get better landscape shots, the Active Lens is a better choice. It includes an ultra-wide lens and a 2x telephoto lens, perfect for catching incredible shots of the world around you. And since these lenses all use your phone, they're great for still shots, videos and social sharing (as long as you have cellular service).
Price: $79.99 for 4-in-1 lens, $69.99 for Macro Pro, $99.99 for Active on Amazon
For Recording the Whole Scene: Ricoh Theta S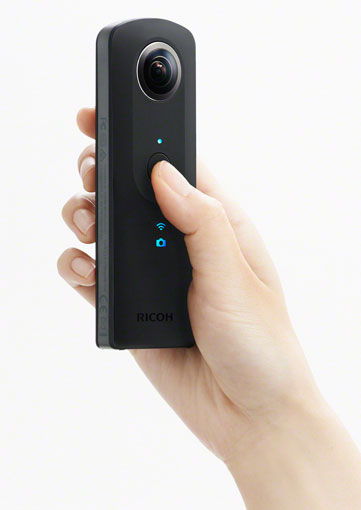 The problem with pictures and videos taken by your phone's camera—or even a stand-alone camera—is that they're static. Viewers can only see the direction you've pointed the camera, which is a shame when you're surrounded on all sides by the grandeur of nature. The Ricoh Theta S fixes this problem by capturing photos and videos in 360 degrees. Now, when someone's checking out photos from your summer Yellowstone hike or your daytrip to Enchanted Rock, they can click on the photo or video to change the angle. That makes for a very impressive vacation photo gallery.
The Theta itself is a fairly streamlined device: it has no viewfinder and only a few buttons, though since you're taking 360 degree images, aiming it perfectly isn't really a concern. But the real power of the Theta unlocks when you pair it with the companion smartphone app. From there you can see what your camera sees and send photos or videos via Facebook (see you can interact with 360 videos on Facebook below), Twitter, Tumblr, Google+, Instagram or YouTube—you can even livestream video directly to Facebook. The new Theta+ app also allows you to edit videos directly from your phone, trimming length and adding filters or music.
As a camera, Theta takes 12MP photos (about par with what you'd expect of your average smartphone) while the image quality is a definite downgrade at just full HD at 30fps—while comparably, the iPhone 6s records 4K video at 30fps. Still, it's the unique 360 degree images that make this gadget a must buy for outdoor adventurers. Just remember: when you pack the Theta, pack a portable tripod, too, as when you're holding the camera your hands and body will get in the shot, creating some odd images.
Price: $346.95 on Amazon
For Staying Safe on the Road: Urgent.ly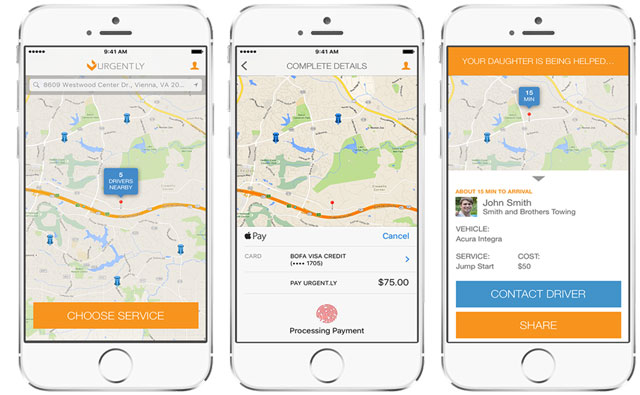 Are you a AAA member? You may not need to be, because Urgent.ly offers on-demand roadside assistance when you need it, no membership required—instead you simply pay for the services you need when you need them. But the real advantage of this service is that it's digitally savvy. Unlike calling a tow truck, where you sit and wait on the side of the road until they get there (if they get there), Urgent.ly has a smartphone app (available for iOS and Android) that lets you see exactly where your tow truck is—and they can see where you are, too, so there's no missing your location. And for parents, the app sends a notification when your teen calls for help.
Urgent.ly offers all the roadside services you're likely to need, helping with dead batteries, flat tires, running out of gas, locking yourself out of the car, and offering tows. Most services run $75, but towing starts at $99 for up to 10 miles and goes up from there. While the costs may sound high when AAA offers all services for free once you've paid for membership, if you run into car trouble once a year you may wind up paying less with Urgent.ly (depending on your AAA membership plan). And if you run into road trouble even less, you'll pay even less.
Load Urgent.ly on your phone and your road trip is guaranteed to arrive where you need to be, no matter what kind of trouble you run into along the way.
Price: $75 to $155+, depending on services needed
For a Smartphone Charge No Matter Where You Are: Waka Waka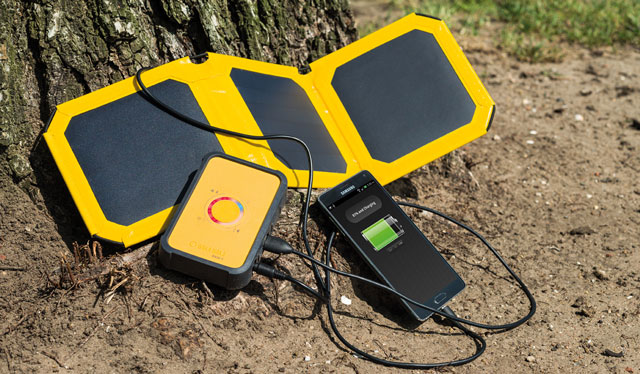 Solar power is nothing new, but most portable solar chargers don't live up to modern techies' expectations: they often charge slowly and once charged they can take forever to power up your gadgets. Waka Waka is a new breed of solar gadget and it's just what you need if your camping trip takes you off the grid this summer.
Waka Waka's proprietary solar technology means it charges up faster than the competition—fast enough to make this solar gadget a fantastic backpacking companion. The only drawback is that like any other solar charger it needs full sun to really charge up, meaning you can run into trouble on cloudy and rainy days.
There are two Waka Waka chargers to choose from, both of which will recharge your smartphone (or other gadgets that charge by USB), function as LED lanterns and can be used as SOS beacons, flashing a bright SOS in Morse code. Both charge up with 12 hours in full sun, which is more than enough to charge a smartphone and keep the lights on all night.
The more portable Power+ is a 2,200mAh battery with a solar panel on one side in a smartphone sized package. A built-in stand lets you prop it up on a table, snap it to the top of a water bottle, or even hang it up with string for charging, after which it can charge up your smartphone in about two hours or serve as a lantern (between 5 and 75 lumens) for up to 150 hours. The advantage here is size: the Power+ is easy to slip in a pocket or drop in a backpack, and gives enough power and light for most situations.
The more powerful Base 10 (shown) is still portable, but instead of being a single unit it's a multi-part solar charging kit. The multi-piece setup is a bit more awkward, but provides plenty of power. The kit comes with a foldable solar panel (measuring just over 29" when unfolded), two LED lanterns (one rechargable and one that must be plugged in to the battery), and a 10,000mAh battery that charges to full in as little as six hours. When charged up, that's enough to charge an iPhone 6s nearly six times or run the two lanterns for up 240 hours—making it an ideal companion for long camping trips.
Price: Starting at $70.99 for the Power+ on Amazon, $199 for the Base 10 from Waka Waka
[Image credits: Olloclip, Ricoh, Urgent.ly, Waka Waka]