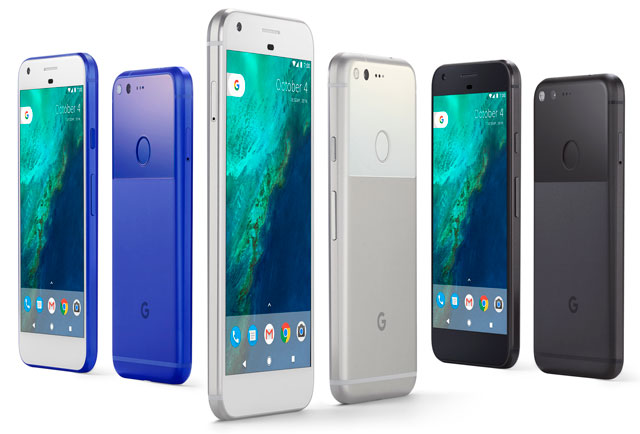 Apple has long held a technology advantage over Android phones because it exercised end-to-end control over software, hardware and manufacturing to better integrate all aspects of its devices. Conversely, Android devices were always a bit of a hodge-podge; hardware makers designed the hardware and did their best to integrate the Android operating system, some more successfully than others.
Google has seemingly closed this integration gap with its new Pixel smartphones, the first phones "made by Google." The Pixels, successors to Google's Nexus 5X and 6P and manufactured to Google's specifications by HTC, are designed by Google and integrate the Android operating system into the hardware.
Pixel will come in two sizes, 5- and the XL 5.5-inch, and go on pre-order today. Both phones will be available in either 32GB ($649, $769) or 128GB ($749, $869) versions, in Quite Black, Very Silver and Really Blue, a limited edition version. There was no specific date given for actual shipping or availability.
Spec-wise, both Pixel sizes run the latest Android Nougat 7.1 operating system, are powered by the latest Snapdragon 821 quad-core 2.15GHz processor, and include 4GB of RAM. The 5-inch Pixel is equipped with a 1080p AMOLED screen and is powered by a 2770mAh battery, while the larger 5.5-inch Pixel XL is fronted by a quad HD AMOLED panel and packs a 3450mAh cell; figure around 13-14 hours of combined Wi-Fi/internet use and/or video viewing. Plus, you'll be able to get 7 hours of battery life with just 15 minutes of charging.
Also included is the Google Duo video calling app, which can be used to make video calls between Android and Apple devices.
Like Apple, Google has eschewed the phone's headphone, opting instead for a single USB-C jack, a growing trend in Android flagship models, such as the Motorola Moto Z. However, unlike Apple, Google will not be including a USB-C-to-3.5mm headphone jack adapter with the Pixel.
Pixel Plusses
One advantage of Google's end-to-end integrated "phone by Google" approach is the built-in nature of Google Assistant. Like Siri on iPhone or Alexa on the Amazon Echo, you merely need to utter "ok Google" or another "hot word," and you'll be able to not only ask it standard information questions but actually control phone functions, such as finding a specific photo, playing a specific song or even make restaurant reservations.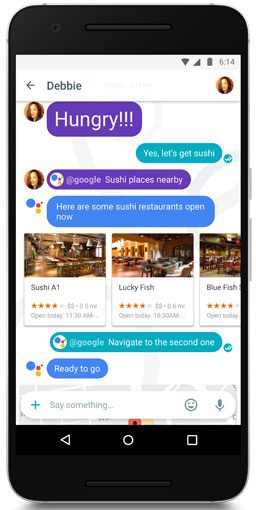 While these Google Assistant voice-activated actions have been available before, the integrated nature of the Google Assistant means the whole system will be easier to upgrade as Google adds more artificial intelligence (AI) and natural language conversation capabilities to Assistant, along with automatic periodic OS updates.
Aside from voice control, Google claims that Pixel includes the highest rated smartphone camera ever, especially in low light, a traditional smartphone camera weakness. Both Pixels feature 12.3MP rear cameras with an f/2.0 aperture and a large 1.55 micron pixel sensor and can shoot in both 4K and 2K with both 240- and 120-frame slow motion, along with f/2.4 8MP/1.4 micron front imagers with full HD video capabilities.
Pixel also can capture action via Smartburst, which takes a rapid-fire sequence of shots (and it will pick out the one that is most in focus for you automatically); Lens Blur lets you capture shallow depth of field and bokeh effects, and there also are new exposure controls.
As a bonus, Google also will supply free unlimited storage on Google Photos for all videos and photos, stored in full resolution.
On the rear of the Pixels is a fingerprint sensor; swiping once unlocks the phone, swiping again – once the Google "Move" function is activated in Settings – opens up your notifications.
Finally, the Pixels are compatible with Daydream View, Google's virtual reality system. Along with the Pixel, Google also announced new Daydream View headsets.
To protect your Pixel, Google is adding new customized Live Cases, which can be created to a match a live wallpaper, designed with Google Earth and Google Trends, or one is a range of static colors.
We'll be going hands on with the Pixel phone and reporting back in the coming weeks on whether the it should be your next Android phone.
[Image Credit: Google]