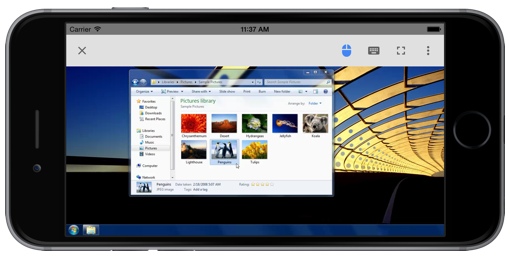 Google this week launched its Chrome Remote Desktop app for iOS, a free tool that allows you to remotely access and control your computer from your iPhone or iPad tablet. A version for Google Android devices is also available.
Google's remote desktop access software is incredibly useful – it's great for when you need to access a forgotten file, download a stored photo or simply use one of your desktop programs while on the go. And getting started is a breeze. Simply download the Chrome Remote Desktop app on your computer via the Chrome Web Store and set up remote access. Then download the app on your mobile device, open the app and tap any of your online computers to connect to it.
For your security, to access your remote computer, you'll be required to be signed in to your Google Account and provide a 6-digit PIN. Connections are encrypted via Chrome's SSL features (including full support for AES). No data about your remote sessions is ever recorded or shared with Google.
Google's Chrome Remote Desktop app is arguably one of the best free remote access choices available, and is worth checking out. Still, there are a few limitations to the app. It doesn't support audio playback, has a wonky keyboard interface and many users report that the app will be a huge a drain on your iPhone's battery. You'll also have to put up with a significant amount of lag, though this is a problem with all remote desktop access apps to some extent.
You can download the free Google Chrome Remote Desktop app for iOS on Apple iTunes and for Android via the Google Play store. The free Google Chrome Remote Desktop app is available for your home computer via the Chrome Web Store.
[Image credit: Google]