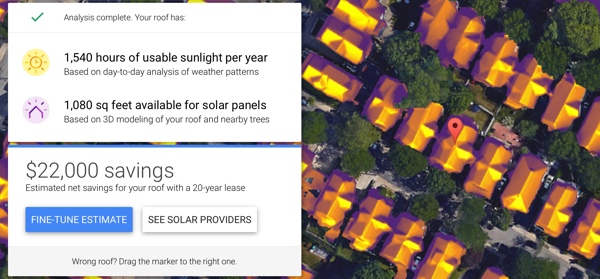 With the price of solar energy installations continuing to fall, it's no surprise that an increasing number of homeowners are installing solar panels on their roofs. According to a recent report from the Solar Energy Industry Association and GTM Research, 3 million new home rooftop solar installations are expected to take place over the next five years. That means as many as 3 million homes will cut their electric bills to next to nothing. Some of these people will even get monthly checks from their electric company for their excess generated power – not bad for going green!
But here's the thing: Solar power isn't right for everyone's home. Your roof needs to be exposed to a certain amount of sunlight in a day, and you need to have ample square footage to install panels. Thankfully, the folks at Google have created Project Sunroof, a new tool that gives you all the solar energy information you need for your individual home. Just give Project Sunroof your home address, and Google will estimate the number of hours of usable sunlight per year your roof gets and the space available for panels. It then recommends the size of solar installation appropriate for your home and calculates your estimated total cost savings. In the case of my Boston-area home, Google estimates I could save $22,000 over a 20-year lease with a 6.25 kW (375 square feet) installation, with all tax credits and utility rebates included.
Project Sunroof harnesses the power of Google Maps and satellite imagery to come up with its calculations. Specifically, Google creates a 3D model of your roof, accounts for shadows for nearby buildings and trees, accounts for the various positions of the sun throughout the year and takes historic cloud cover into consideration, too. Project Sunroof also provides you with information about solar providers who operate in your area so you can arrange for installation. There's a lot of general information about solar power available in an FAQ in case you have any questions.
For now Project Sunroof only works in three specific geographic areas: San Francisco Bay Area, CA; Fresno, CA and Greater Boston, MA. Expect Project Sunroof to expand into more areas in coming months. You can access Google's Project Sunroof by visiting google.com/get/sunroof.
[Image credit: Google's Project Sunroof]