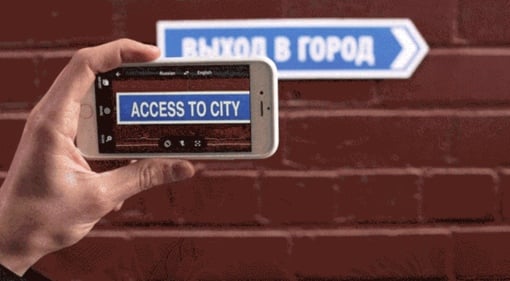 Are you planning a trip overseas? Don't forget to take Google with you: This week, the computing giant released a major update to Google Translate app (available on both iOS and Android) that makes it easier than ever to converse in and read a foreign language.
The update has to Google Translate two main components to it. The first is a major speed boost to Google's automatic spoken language translation feature. Now, when you touch the app's microphone button, it will automatically detect which of the two languages are being spoken and translate it to the other almost instantly. From then on, you won't need to tap the button – the app will simply work, acting as your own personal translator in normal conversation. You can see this feature in action in the short YouTube video embedded below.
Google Translate's second new feature, Word Lens, is exceptionally useful for travelers. It harnesses your mobile device's camera to automatically recognize and instantly translate written text in real time, even without a data connection. The new feature is perfect for quickly understanding road signs, documents and even the menu at the new French restaurant that opened down the street. Instant translations work for translation from English to and from French, German, Italian, Portuguese, Russian and Spanish, with more languages coming soon. Need a different language? You can use the app to take a picture of the text instead and get a translation in 36 languages.
Naturally, the app's language translation ability isn't perfect. Certain words may not be recognized, and certain localized phrases and idioms won't make sense when swapped out with English. It's not powerful or reliable enough to handle a key business contract, but it's more than ready to help with basic communication the next time you travel on vacation to Paris or Rome.
If you want to give Google Translate a try, there's no need to be shy – the app is free and easy to use. You can download the app for iOS on Apple iTunes and for Android on Google Play.