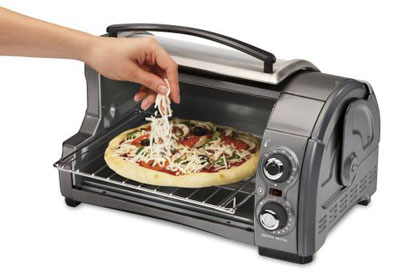 No one loves a solid toaster oven more than I. It is America's premiere French bread pizza reheating solution. Microwaves leave the middle part weirdly frozen. Regular ovens can take an hour to warm up, and if I was OK with waiting an hour, I wouldn't be eating a frozen pizza. Yes sir and/or ma'am, for my consumer dollar, a quick-to-warm toaster oven is simply the way to go.
So when I heard that there was a huge revolution in toaster oven technology, I had to be first on the scene. A removable, roll-top door … on a toaster oven? Yes, toasties (what us toaster aficionados lovingly refer to ourselves as), the future is here, and it is the Hamilton Beach 31334 Easy-Reach 4-Slice Toaster Oven ($49.99).
Let's get the need-to-know basics out of the way: This thing toasts. This thing bakes. This thing broils. It has four convenient legs for resting on your counter (laminate and granite friendly!). It's got a rack, so you don't need to waste your powers of levitation on reheating your McDonald's fries. All your toaster oven must-haves are definitely included.
But that's not where this toaster shines. See, the secret behind the toaster's advanced roll-top tech is a scientific breakthrough called a "45-degree angle." In less scientific terms: It's easier to get stuff in there–and out without burning yourself. And indeed, preliminary reports do suggest that it is quite beneficial to have access to the 45-degree angle, as well as the 60-degree, 70-degree, and of course, the classic zero-degree, horizontal angle that you've used for years.
You'd probably expect to find a cool kitchen gadget like this in some Space Age moon-man store, but no – the Hamilton Beach 31334 Easy-Reach 4-Slice Toaster Oven ($49.99) can be found at the Hamilton Beach website or any retail location where finer toaster ovens are sold.
Hamilton Beach toaster ovens: Find the best prices on Amazon.com
Top rated toaster ovens: Find them on Amazon.com