OnePlus has entered the folding smartphone market with the OnePlus Open, and much like its previous Android phones, it's hoping to attract buyers with its flagship features and affordable pricing. Can it take on the reigning foldables like the Google Pixel Fold and the Samsung Galaxy Z Fold 5?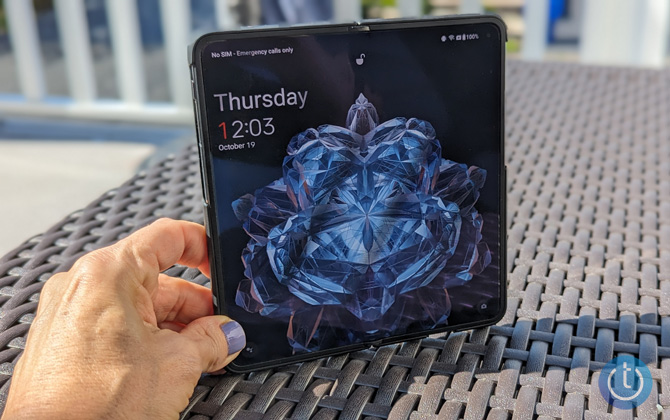 I've been using the OnePlus Open for a few weeks, taking photos, watching videos, and scrolling through social media. The thin-and-light design, nearly imperceptible crease, and bright 7.8-inch main display make this an impressive first try. Here are my first impressions of how it stacks up against the current competition.
Display size and feel
OnePlus gets a lot right with this design, starting with finding the sweet spot in sizing. At 6.3 inches, the cover display looks and feels like a standard smartphone. The 6.2-inch Z Fold 5 has a slimmer, taller feel to it, and the 5.8-inch Pixel Fold opts for a shorter, wider form factor.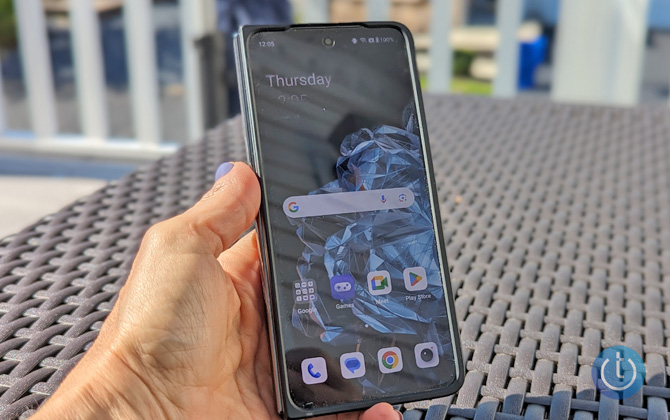 In addition, OnePlus managed to eliminate any gap between the two edges when folded closed, which took Samsung five versions of the Fold to get right. Holding it closed, it feels more like a phone in my hand and doesn't feel that much thicker than a regular smartphone. The Open is 11.7 mm thick, the Z Fold is 13.4 mm, and the Pixel Fold is 12.1 mm.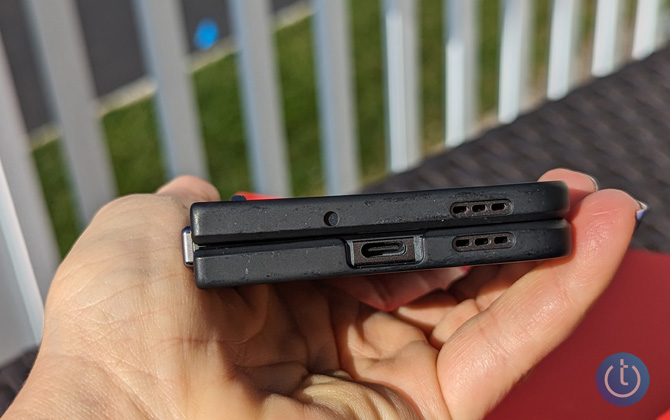 Where's the crease?
You really notice how much work OnePlus put into the display when you open to the 7.8-inch main display. When fully open, the crease is barely visible, and the screen lays flat in my hand. Sure, I can see it when I look really closely and the screen is dark, but it's barely perceptible compared to the creases on the Samsung and Pixel devices. I tended to forget it was a foldable and just appreciated the larger, brighter display (up to 2800 nits) to read on. The Z Fold 5 and Pixel Fold each have a 7.6-inch main display with up to 1,750 nits and 1550 nits of brightness, respectively, making the Open the brightest screen by far.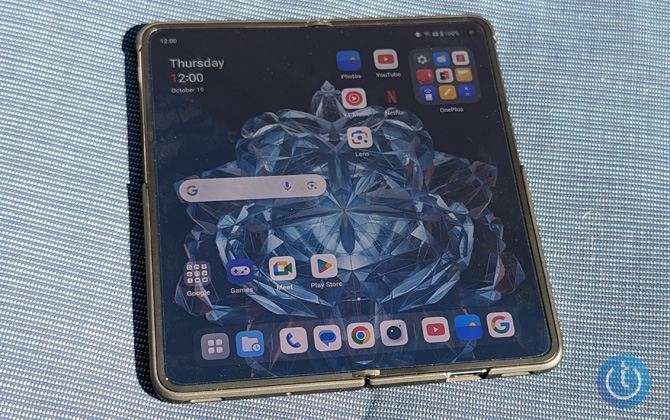 Tested for One Million Folds
It's all about the hinge in the Open, and OnePlus tested its Flexion Hinge to withstand one million folding cycles, pointing out its mechanical design uses fewer parts than the industry average (69 vs. 100). This makes it not only stronger but also lighter and incredibly durable. You'd have to open your folding phone 100 times a day for ten years to reach a million folds. Of course, who keeps a phone for ten years, but still – not too shabby when the Z Fold 5 boasts just 200,000 folds.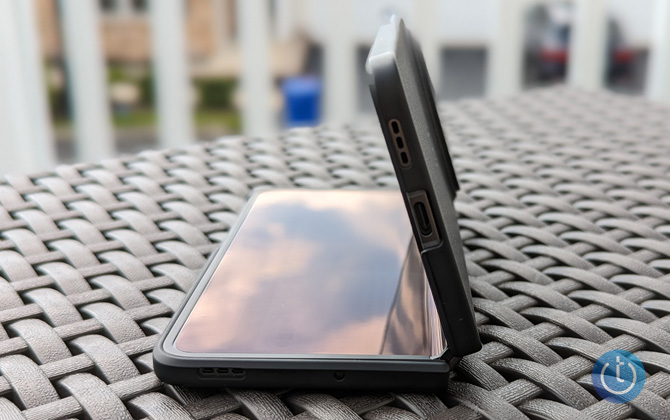 Lighter than an iPhone 14 Pro Max
You would expect a foldable to weigh more than a traditional smartphone; there are, after all, two display panels, but OnePlus managed to get the weight down so it doesn't feel heavier than a regular smartphone. In fact, the Open, which weighs 239 grams, weighs less than an iPhone 14 Pro Max. It's also slightly lighter than the 253-gram Z Fold 5 and much lighter than the Pixel Fold's 283 grams.
Huge camera bump
The first thing you notice on the Open is the huge camera bump on the back of the phone, displaying the three rear cameras. I like the centered placement of the bump; it gives me a place to rest my fingers when I'm holding the phone.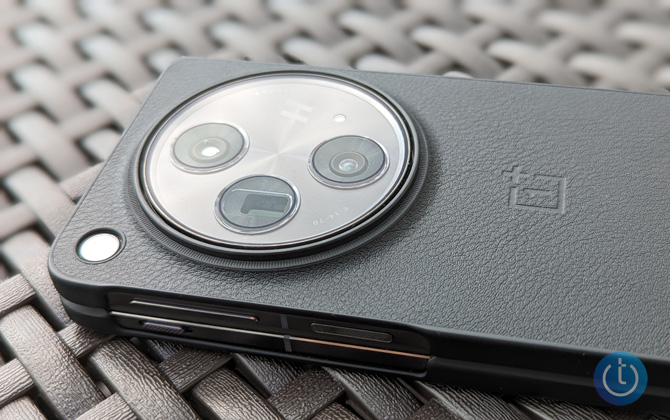 The main 48MP camera with a new Sony "stacked pixel" sensor is supposed to let in more light than previous models. There's also a 48MP ultra-wide camera and a 64MP telephoto camera with 3x optical zoom. These specs hold their own against the competition, but if you're a selfie type of person, the OnePlus Open's 32MP cover-display selfie camera will be very enticing, as will the 20MP selfie cam on the main display.
Image quality on OnePlus phones has significantly improved since its partnership with Hasselblad began a few years ago, and the photos I took with the Open didn't disappoint. Cat photos came out crisp and clear, while my nighttime NYC photos, despite being on a rocky boat, had deep blacks and bright highlights.
Fast, but not wireless charging
OnePlus includes its fast 67W charger in the box to quickly top off the 4,805mAh battery, but unlike its competition, it doesn't offer wireless charging. Some users are fine using a wired fast charger, but a phone that costs $1,699.99 should include the option of wireless charging, something both the Pixel Fold and Z Fold 5 have.
Only rated for IPX4 water resistance
Another area that might be disappointing for some is the phone's IPX4 rating, which means it can't stand up to water the way the Pixel Fold and Z Fold 5 can. Samsung's foldable is IPX8-rated, so it can survive being dropped in the water. It's not that anyone really wants to do that, but it's nice to know you can. You can splash water on the OnePlus Open or get it wet in the rain, but I'd keep it away from the swimming pool.
Price is comparable, with more storage
Foldables are not what I would call an affordable smartphone form factor right now, but competition is always a good thing for consumers. At $1,699.99, the OnePlus Open is a hundred dollars less than the $1,799.99 Samsung Galaxy Z Fold 5 and similarly priced Pixel Fold. However, with 512GB of storage, it offers twice as much storage as the 256GB you get in the Z Fold 5 and the Pixel Fold.
OnePlus is offering a (minimum) $200 trade-in offer for any phone in any condition. However, since it must be purchased directly from OnePlus, there are no additional carrier deals to sweeten the pot. The Samsung Z Fold 5 was $1,799.99 when it first launched, but with carrier deals and trade-ins, you can get one for under $1,000 right now or unlocked for $1,499.99 on Amazon (at press time). Google's first folding smartphone is also priced at $1799.99, but carrier trade-in deals are available.
Final first impressions
OnePlus has made an impressive, well-designed foldable smartphone with a nearly imperceptible crease, bringing more competition to the foldable smartphone space in the U.S. Despite the lower IPX rating and no wireless charging, the OnePlus Open's specs match the competition, with a Snapdragon 8th generation 2 chipset designed for mobile, 16 GB of RAM and 512 GB of storage. OnePlus can't compete on price as it usually does because carrier discounts and trade-ins might make the other foldable options even less expensive, but if you're interested in buying a foldable smartphone, the Open stands up to the competition in all the ways that count.
You can order the OnePlus Open in Voyager Black (in faux leather) or Emerald Dusk. The OnePlus Open will also be available unlocked on Amazon. Delivery is estimated to be November 22.
[Image credit: Andrea Smith/Techlicious]
Andrea Smith is an award-winning technology broadcast journalist, reporter, and producer. Andrea was the Technology Producer and an on-air Technology contributor at ABC News for over two decades before becoming the Lifestyle Channel Editor at Mashable, where she explored the ways in which real people, not just geeks, began using technology in their everyday lives.