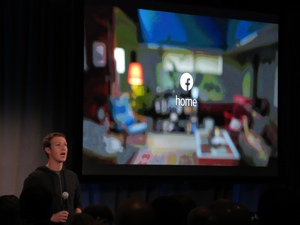 Facebook wants to take over your phone. And eventually, your tablet, too. After much speculation about Facebook releasing its own smartphone, today's media event at the company's Palo Alto headquarters saw CEO Mark Zuckerberg revealing Facebook Home, a new Android app that will replace the phone experience you have today by putting Facebook front and center. Together with AT&T and HTC, the company also launched the HTC First, a smartphone that has the app baked into your experience from the first moment you power the phone up.
Facebook Home is all about "how you can turn your Android phone into a great social device," Zuckerberg said as he introduced today's event.
What Facebook Home does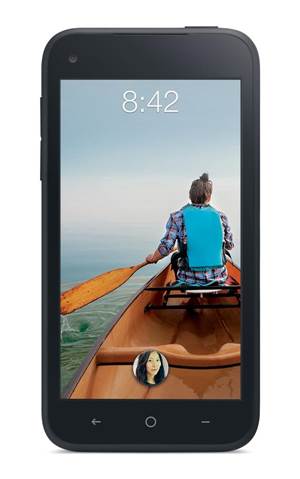 Zuckerberg describes Facebook Home as a "family of apps," which is one way to describe Home—a replacement launcher for your lockscreen, the general Android home screen and menus—and it's interaction with the Facebook Android app, which you have to have installed first in order to install Facebook Home from Google Play.
The idea behind Facebook Home is to put Facebook—and the people that you trust—at the forefront of your phone, without requiring additional log-ins or even getting past the lockscreen. Facebook is well-positioned to make a play to own this space; Zuckerberg noted that smartphone users spend about 20 percent of their time in Facebook, and that number jumps to 25 if you add in the Facebook-owned, photo-sharing app Instagram.
"We spend our lives sharing and connecting," Zuckerberg added, and as part of that, Facebook wants to make that process easier, and focused around people, instead of around a task, such as opening an app.
How Facebook Home works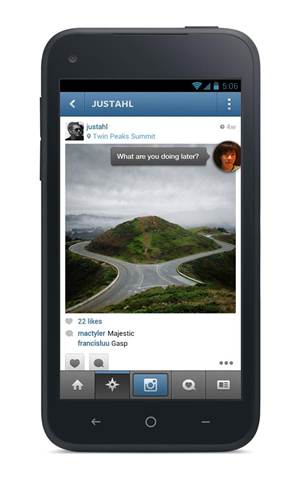 I tried the Facebook Home app on the HTC First, as well as on the Samsung Galaxy Note II, a phone I'm intimately familiar with, to see if Facebook Home truly transforms your social experience. For starters, Facebook Home takes over your lock screen. Images become of primary import here, with status updates, captions, and link shares all overlaid on top of the image. Facebook's algorithms choose what part of a picture to zoom into and show to fill your phone's front face; if you want to see the full image, you can long-tap on the image, and then the full image will be visible on the display.
If you want to Like one of these images on your display, just long tap on the image, and voila—your Like is registered. If you want to view comments, tap on the icon at the bottom, and they pop up as an overlay on top of the picture. The convenience here is that you don't have to tap a notification and then enter the Facebook app, as Facebook notifications work today; it's all right there in front of you, no opening of an app required.
Images can look good, but they're very much at the mercy of the photographer, and the quality of the capture device. If you have a lot of photographers in your feed sharing content, Facebook Home will look beautiful, but it's possible for the Cover Feed, as this feature is called, to get very tiresome, too. For now, Cover Feed has no advertisements, but when asked during the event Zuckerberg admitted that ads appearing in the Cover Feed is a distinct possibility.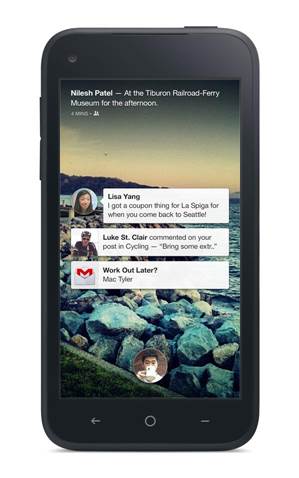 At the bottom of the Facebook Home display is a circular icon with your profile photo; the same photo, just slightly smaller, is your Facebook Chat Head icon. Like other Android lock screen customizations I've seen (for example, on Acer's tablets), tap and hold that central button, and you'll get three options. Swipe up to get to the Facebook Home app launcher, swipe left to get the Messenger, and swipe right to enter your most recently accessed app.
Chat Heads are Facebook's new, streamlined way of messaging. Here, too, interaction is brought to the top layer, even to the point that you can be browsing a web site, and then a chat head appears and your chat becomes an overlay on top of the browser, one that persists and can be minimized and maximized as needed.
What Facebook Home doesn't do
Ultimately, what Facebook Home isn't is a fresh new mobile operating system—and thank goodness for that, we have enough of those already. However, what it delivers is something that, in the current version, is both innovative and destructive to the phone experience you may already have. While Facebook Home funnels all of your social communications through Facebook, it currently does a poor job of interacting with other social apps, let alone interacting with whatever customized phone experience a handset maker may have already come up with.
There's no support for widgets or folders in Android, for example; on the Samsung Galaxy Note, when I removed the S Pen stylus, the Facebook Home interface did not automatically sense the stylus' removal and drop me to the widget for the S Pen. And those limitations may prove deterrents for those who already love the device they have—or bought a phone for a manufacturer's specific software choices.
When Facebook Home is available
Facebook Home will be available for download on the Play Store on April 12, and will at first only be available for the HTC One X, the HTC One X+, Samsung Galaxy S III, and Samsung Galaxy Note II. It will also work on upcoming, highly anticipated phones the HTC One and the Samsung Galaxy S4. Tablet support is coming later this year, but there are currently no plans for Facebook Home to be available on any iPhone or iPad model.
In addition to the downloadable Android app, Facebook has partnered with HTC to turn the HTC First into the first so-called "Facebook" phone, that is one with Facebook Home already installed. The First will ship on April 12 for $100 with a two-year contract on AT&T; and it's available for pre-order starting today.
The HTC First phone runs Android underneath, and it can still use other Android apps. But the phone lacks the usual Google interface, and it even lacks HTC's usual Sense software overlay, as found on the HTC One. Instead, Facebook Home controls your Android experience, and it comes with Instagram pre-installed (a first for a phone). According to Facebook, there are two main benefits to having worked with HTC to integrate Facebook Home into the phone. The first is that Facebook was able to optimize the software to maximize battery life (a key spec neither company discussed in detail at Thursday's launch event). The second benefit is that Facebook Home can handle the notifications that Android usually takes care of at the top of the phone.
The bottom line is, if you're a heavy Facebook user, you may find a lot to like about Facebook Home, and it absolutely makes it easier to view status updates, photo stories, and use Facebook chat and messenger. But if you're a casual user, or your travel overseas a lot, Facebook Home is not for you.