Review of the HTC One X (AT&T)
Techlicious editors independently review products. To help support our mission, we may earn affiliate commissions from links contained on this page.
✔ Editor's Choice May 2012: Best Smartphone (AT&T)
HTC One X review summary
Recently, I reviewed the HTC One S for T-Mobile and called it "the best Android phone on the market." The HTC One X for AT&T is a very similar device, so would it impress me, too? It certainly did.
However, while similar, the HTC One S and One X are not identical. The One X sports an HD 4.7-inch display (1280 x 720) versus the 4.3-inch qHD display (960 x 540) on the One S. Whether you see that as an advantage or a drawback, depends on your hand size. And the One X works on a "true" 4G network, AT&T's LTE, whereas the One S uses T-Mobile's "3.5G" HSPA+ 42 network. Does that make a difference? Read on to find out.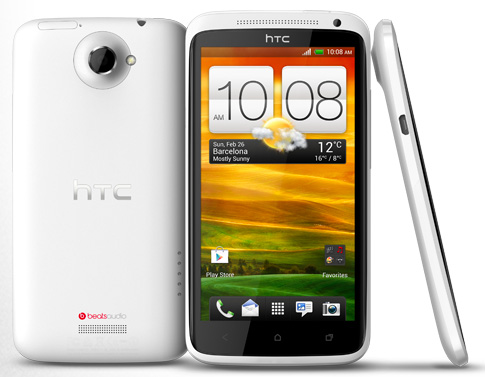 How it feels in the hand
The HTC One X is a very large phone, yet HTC did a marvelous job at keeping that size manageable with a slim, lightweight design (only .36 inches thick and 4.6 ounces). The polycarbonate case gives a grippy feel. Nonetheless, for my hand size, I find 4.7-inch display a little too large to easily navigate the entire display using my thumb. And while the phone easily slipped into my front pants pocket, the long case caused the power button to be depressed accidentally when I sat down, shutting off the phone. I definitely prefer the 4.3-inch display of the One S.
The polycarbonate case should also do well at minimizing the appearance of scratches since the white color runs all the way through. Though during my time with the One X, the case showed nary a nick.
Buttons on the One X felt solid and were slightly raised to find by feel. But again, I found the reach trickier on the One X than on smaller phones.
Display & Sound
The HTC One X steps up the display over the One S with a 4.7-inch HD (1280 x 720) Super LCD screen. As with the One S, colors were rich, contrast was excellent and the phone offered plenty of brightness, even in sunlight.
Those stepping up to the One X over the One S for the HD display should be aware that the differences between the two are very, very subtle. Head-to-head, it was almost impossible to distinguish the resolution differences in most uses. For those interested in pixel density comparisons, the One X pixel density of 312ppi is just a hair below the iPhone at 326ppi.
Like the One S, the One X uses Gorilla Glass to protect against scratches and breakage.
Call quality on the HTC One X is excellent—I had no complaints on my end or the other side—and the speakerphone is loud and clear. As on the One S, HTC touts its Beats Audio technology on the One X. I found that it provides a slightly better musical experience, which was very good, overall.
Web browsing & network
The One X runs on AT&T's LTE network and provided very good speeds during my tests. Downloads ranged from 7Mbps to a whopping 34Mbps. Speeds were less consistent on the higher end than I found with Verizon, but it's clear that AT&T's network is capable of great things.
The fast network speeds combined with a powerful 1.5GHz dual core processor made web browsing a pleasure, with fast page loading and scrolling.
Camera & video recording
The HTC One X has identical camera technology to the One S, and in my testing performed equally as well, So I'm replicating my One S write-up below.
Almost every phone we test comes with a marketing sheet touting the quality of its camera. Very few live up to that promise. Let me just say that the HTC One S has the best camera I've used on any Android phone, and I would argue it outclasses the iPhone 4S as the best in the US market.
When I first saw the HTC One at a press event, it was clear that someone at HTC asked the question, "What can we add to the camera to actually make it more useful, not just more complicated?"
To answer that question, HTC gives us a handful of new features that facilitate photo and movie taking.
The first is simple—combine the photo capture and video record button in one place. No more shuttling between screens to shoot photos and video. In the same vein, you can now also capture full resolution images while shooting video. The other useful improvement is a burst capture mode that lets you take 20 or more photos, at 5 frames per second—you pick the best one and then the rest are automatically deleted.
The 8MP camera also sports superfast capture—an estimated 0.7-second shot time and a 0.2-second autofocus—and an f/2.0 lens that HTC says captures 40% more light than other smartphone cameras and should offer better low light performance.
All phones have scene modes, but those on the One X really work. The HDR mode, especially, delivered incredible results in low light (better than the low light mode, in fact). Shots that came out as dark blobs on other phones, were more than acceptable on the One S, delivering well exposed subjects and accurate colors. HDR doesn't work well for moving subjects—you'll end up with odd double-exposure artifacts—but for still subjects, it can be nothing short of miraculous. The HTC One X "Group portrait" mode also worked as advertised to reduce closed eyes and frowning in group shots.
In addition to the scene modes, the One X has numerous Instagram-like effects for adding a little artistry to your shots.
Given the fine quality of the camera, it should be no surprise that the quality of the 1080p video was excellent, as well. And it was, possibly the best on any smartphone I've tested. The one bug I found was that using the anti-shake mode caused the video to stutter (see video below). The One X also includes a slow motion video—my kids had a blast with it and it came in handy for filming my son's baseball swing to help him improve his technique.
Keyboard & Navigation
The HTC One X runs Android 4.0.3 Ice Cream Sandwich with HTC's Sense 4 skin. Those new to Ice Cream Sandwich and Sense 4 will appreciate the improvements, such as the ability to see mini-icons of apps in folders and unlock the phone with face detection. Engadget has a full review of HTC Sense 4 for those that want to dive into the details.
I wish HTC had included Swype with the One X, rather than their own version. Omissions, such as lack of alternatives when highlighting a previously spelled word and inferior handling of punctuation and spacing, make editing less efficient.
The 1.5 GHz dual core processor and 1GB of RAM had no problems handling navigation without lag.
Naturally, AT&T loads up the One X with plenty of useless bloatware which can't be uninstalled.
Storage
The One X comes with 16GB of onboard memory, but no microSD card slot. HTC makes up for this omission with 25GB of free Dropbox storage when you purchase a One X. For some users, the Dropbox storage will be more useful than the SD card. You can set the One X to automatically upload photos you take to Dropbox, and those photos can be synced to your personal computers—just be sure you're doing your big uploads and downloads via Wi-Fi.
Battery life
Like the One S, the battery life on the One X is superb. On a recent trip, I used the phone heavily all day for calls, email and as a personal hotspot and the One X still had 25% left at 10pm. The battery is not removable, though.
Pricing and availability
The HTC One X is available from AT&T
for $199.99 with a new, two-year customer agreement. Or, you can save $50-$70 and purchase it from Amazon Wireless for $19.99 in white and $19.99 in gray (Amazon Wireless pricing current as of 9/24/2012). That's a darn good price for a phone of this quality.
Should you buy it?
The HTC One X is a great all around phone. I called its smaller sibling, the HTC One S, the "best Android phone on the market" and One X is a step up in terms of display resolution and true 4G LTE speeds. So is it the new "best on the market"?
Performance-wise, yes. Though the ergonomics, as good as they are, are best suited to those with larger hands. If size really doesn't matter, the Samsung Galaxy Note, with its 5.3-inch display, is a very close second place for AT&T.
It will be interesting to see how the performance of the new Samsung Galaxy S III compares with the One X when it hits the market this summer. From what I saw with a quick hands-on at CTIA, it's going to be a close race. But for now, the HTC One X is our Editor's Choice for AT&T.
Rating: Highly Recommended

Detailed Specs
Talk and Standby Time: Up to 8.5 hours talk time, up to 12.6 days standby
Band/Modes: HSPA/WCDMA 850/900/1800/1900 MHz
OS: Android 4.0.3 Ice Cream Sandwich
Weight: 4.6 oz
Dimensions: 5.3 x 2.75 x 0.36 inches
Battery: 1800 mAh
Display: 4.7" HD Super LCD (1280 x 720)
Video: 1080p
Camera: Rear-facing 8.0 megapixel, Auto Focus, LED flash
Front-facing Camera: 1.3 megapixel
Mobile hotspot: Yes
Processor: 1.5GHz Dual Core
Memory: 1GB RAM, 16GB onboard storage and 25GB Dropbox storage
Discussion