HTC showed off the its new flagship HTC One this week in New York City and I had the opportunity for some hands-on time. Overall, I came away very impressed with what HTC is bringing to the table. In both design and features, the HTC One will be a very strong competitor to the Samsung Galaxy S3 and iPhone 5. Whether that's enough, though to lift HTC's lagging market share, we'll have to see.
Review units of the HTC One are not yet available, but here are my initial impression based on my time with the phone at the event.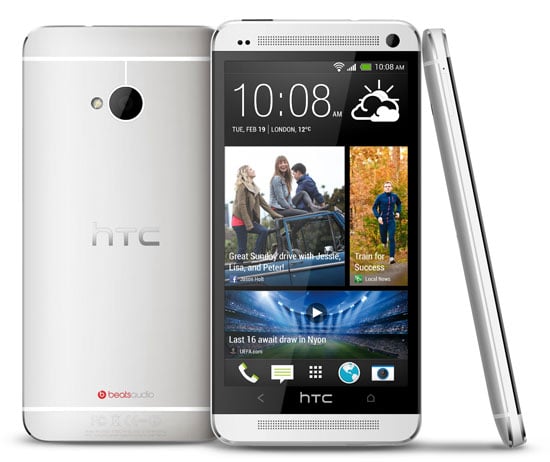 How it feels in the hand
The HTC One is crafted out of a single piece of aluminum, which gives it both beautiful looks and a premium feel (in stark contrast with Samsung's plasticky Galaxy S3). Yet, it's not heavy (5.04 ounces), and the squared-off sides and thin profile make it very comfortable to hold. In my opinion, it is the nicest phone HTC has ever made. I'm sure there will be a lively debate on whether it beats out the iPhone's iconic industrial design, but we'll save that until we've had a chance for a longer term review.
Display & sound
In the midst of what seems like an endless race to ever bigger displays, HTC actually took a step back and will launch the One with a 4.7-inch 1080p screen. That was a wise decision. While the 5-inch 1080p display on HTC's current flagship, the Droid DNA, is lovely, it is a touch too big for many people to hold and operate. And by providing the same 1080 resolution as the DNA in a smaller display, HTC will deliver super-high 468ppi pixel density that far eclipses the iPhone's vaunted Retina display.
On the sound front, HTC is equipping the One with dual amplified speakers for better sound when listening to music, movies or using the speakerphone. And, of course, it wouldn't be HTC without integration of Beats Audio. HTC is dubbing this system "BoomSound". It was hard to judge the quality of the sound in the raucous event space. My quick impression is that it is a step up from other phones and provides a more functional experience, but isn't going to knock our socks off.
HTC's "Sense Voice" automatically boosts call volume and quality in noisy environments. I wasn't able to test this feature at the event.
Camera & video recording
HTC is doing some very exciting things with the One's camera and photo features. First off, HTC has completely bailed out of the megapixel race by putting a 4MP camera on the One. But there's a method behind the madness. HTC, which has been making, arguably, the best cameras on any line of phones, recognizes that sensor quality is as important, if not more so, than how many pixels you can stuff on it. For the One, HTC is introducing it's "UltraPixel" sensor, which can capture 3x the light of HTC's previous sensors.
I tested the One's camera alongside my Droid DNA in the dimly lit event space. The One's light capture ability blew away the DNA. In fact, the One in standard mode did a better job at capturing detail than the DNA's HDR mode—and the DNA has a very good camera. Running the One's HDR mode, the camera actually illuminated the subject better than I could see with my naked eye. Improved light capture also means less lag time, faster shutter speeds and overall less blurring.
On the feature front, HTC "Zoe" (does HTC have to name every new feature?) captures three second video snippets whenever you shoot a still photo. Zoe can then stitch those snippets together to make a video montage of an event. HTC showed a demo of a father's trip to the park with his daughter. A handful of photos became an entertaining memory reel.
Other interesting features include sequence shots (multiple shots combined into one photo) and extra person removal.
Keyboard & navigation
Next on the proprietary naming front is HTC BlinkFeed. BlinkFeed reimagines your homepage as a series of tiles, providing updated news and information from over 1,400 media sources, according to HTC. Visually, it is very similar to the Windows Phone interface of active widgets. But, unlike Windows Phone, BlinkFeed doesn't offer the wider variety of widgets, such as email, etc.
I'll have to test out BlinkFeed more when we get a review unit, but my sense is that most people will prefer the traditional Android homescreen since news updates are only a small part of what most people use their smartphones for.
One feature I can't wait to try out at home is the HTC One's built-in infrared controller and media center control app. I've used various add-on devices to turn my phone into a remote control, but dealing with those extra products is always a hassle. Having it all built-in to the device I'm carrying anyhow makes tons of sense. And I no longer need to hunt under the cushions to find my "real" remote.
Storage
HTC will offer 32GB and 64GB variants of the One. But no microSD slot.
Battery life
The HTC One will have a large 2300mAh battery. I obviously haven't tested the battery life yet, but based on the specs and my experience with other HTC devices, I expect the battery life to be excellent.
Pricing and availability
The HTC One will be available in March on AT&T, Sprint and T-Mobile at $199.99 for the 32GB version and $299.99 for the 64GB. Colors include black and silver.