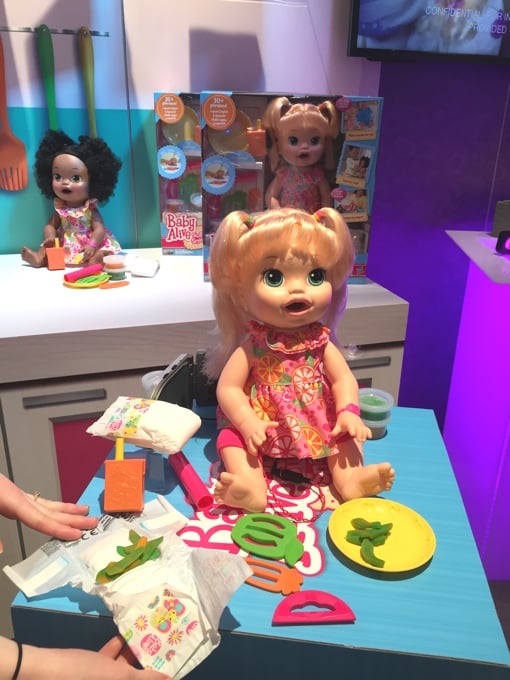 Playing "house" is about to get a lot more real. This week at Toy Fair 2015 in New York City, Hasbro introduced the new Baby Alive Snackin' Sara doll. The lifelike playmate talks to kids, asks for food when she's hungry and eventually "poops" the food out into a diaper, just like a real baby.
Baby Alive Snackin' Sara comes pre-programmed with over 30 different phrases to alert kids when she's hungry, tired and full. Sara chews the fake food prepared by your kids (included), which after a short period of time appears in the baby's changeable diaper.
Snackin' Sara will be made available in three different ethnicities and is bilingual in both English and Spanish. She comes with a removable outfit, two containers of reusable doll food, three food shapers, a roller, plate, pretend juice box and two diapers. Additional diapers are sold separately.
Hasbro's Baby Alive Snackin' Sara requires two AA batteries and is intended for children aged three and up. You can expect to see the doll hit store shelves and on HasbroToyShop.com sometime in fall 2015. Snackin' Sara's expected retail price is $24.99.
[Image credit: Techlicious]