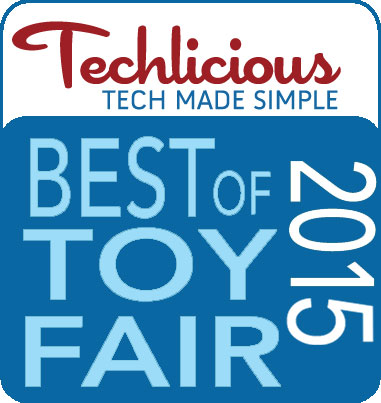 Want to know what the best new toys will be this year? We scoured the booths at the annual Toy Fair show in New York City this week to uncover the most innovative, most educational and downright most fun toys coming to market.
Among the 1,000 exhibitors and estimated 150,000 products, we selected eight products for our coveted Best of Toy Fair Award. Here they are.
Matchbox Treasure Tracker
Every child dreams of finding buried treasure. Now, Mattel is aiming to make it a reality with its Matchbox Treasure Tracker. The truck has a built-in metal detector that can find small objects buried in up to around six inches of sand (the final metal detector specs are being finalized). The detector turns on when the treasure sensor is lowered, and kids will know they've hit the jackpot when the truck beeps and flashes red. The Treasure Tracker's truck bed detaches and doubles as a scoop and sifter—the perfect tool for digging for buried find.
As cool as the product itself is, we were equally impressed by the very reasonable proposed price of $29.99.
Age: 3 and up
Price: $29.99
Availability: Fall 2015
ThinkFun Maker Studio Construction Sets
With 3D printing becoming more affordable, it's no surprise that it's found its way into one of our picks for the Best of Toy Fair. ThinkFun's Maker Studio Construction Sets, available as a Gears, Propellers or Winches Set, are designed to help kids experiment with concepts such as torque, propulsion and friction. And each set comes with 10 engineering challenges ranging from building a biplane to a motorcycle to a crane in combination with common household objects.
Cool, right? But it gets better. ThinkFun is opensourcing all of its parts and new expansion pieces and plans to make them available as free downloadable 3D printing files. That means the sky's the limit with these construction sets.
Age: 7 and up
Price: $19.99
Availability: mid-April 2015
Spin Master Sick Bricks
We saw a lot of toys that could beam into apps at Toy Fair, but Spin Master's Sick Bricks stood out for its gameplay and personality. The tiny brick figures are similar to Activision's Skylanders Swap Force characters (Best of Toy Fair 2013) in that the tops and bottoms can be mixed and matched to form new characters with new capabilities. But Sick Bricks doesn't stop there. You can bring monsters, vehicles and items into the game by capturing a picture of it while playing the game (see a demo of the gameplay).
Sick Bricks will work with iOS and Android smartphones and tablets at launch. A total of 70 characters will be available at launch.
Age: 8+
Price: $2.49 for a Single Pack, $3.99 for a Double Pack and $8.99 for a Team 5-pack
Availability: mid-March 2015
Tiggly Words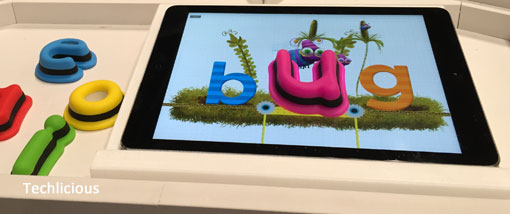 With Tiggly Words, Tiggly has applied its expertise in blending hands-on play with learning apps to the challenge of teaching kids how to read. Tiggly focuses kids' attention on the all-important vowels by making them hands-on pieces. The other letters play a supporting role onscreen in activities that range from constructing words to solving silly problems. Tiggly Words works on iPhones and iPads.
Age: 4-8
Price: not yet available
Availability: spring 2015
Crayola Color Alive Easy Animation Studio
Crayola makes it easy for kids to create their own animated characters and stories with Color Alive Easy Animation Studio.
The kit comes with a coloring book with characters that range from a fairy to a super hero that become the star of your child's animation. Once your child has finished coloring in their design, it's time to animate them. Kids manipulate the mannequin that comes in the box into a series of poses. Then, the app uses its Smooth Action Technology to create the motion between the poses for a fully animated video.
Age: 6 and up
Price: $24.99
Availability: August 2015
Vtech Go! Go! Smart Wheels Ultimate RC Speedway
Vtech brings remote control track racing to the toddler crowd. The easy-to-use two button remote lets kids drive the RC SmartPoint Racer forward and backwards and engage track elements, like the car elevator. The playset can be expanded with any of the 35 compatible Go! Go! Smart Wheels playsets available at launch.
Age: 3 and up
Price: $59.99
Availability: Fall 2015
Hasbro Play All Day Elmo
Play All Day Elmo manages to be both huggably soft and smart. With more than 150 canned responses and eight built-in activities and games, toddlers will have plenty of fun. They can tickle his belly, hold his hand, give him a kiss or play patty-cake. And when it's time for lights out, there's no need to put Elmo away, he's soft enough to sleep with.
Age: 18 months – 4 years
Price: $59.99
Availability: Fall 2015
Fisher-Price Smart Connect technology
Bluetooth started showing up in baby toys a couple of years ago, providing remote control and monitoring. This year, Fisher-Price takes it to a new level with its Bluetooth-based Smart Connect technology. One app now controls all Smart Connect products, providing parents with remote operation and the ability to soothe baby from another room. The first Smart Connect products will be the Woodland Friends Smart Connect 2-in-1 Projection Mobile and the 4-in-1 Smart Connect Cradle 'n Swing.
Age: newborn – child becomes active and can climb out of the seat or reach the mobile
Price: Woodland Friends Smart Connect 2-in-1 Projection Mobile: $69.99; 4-in-1 Smart Connect Cradle 'n Swing: $199.99
Availability: Fall 2015
[image credits: ThinkFun, Vtech, Mattel]