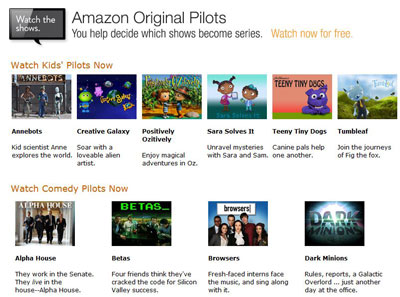 Have you ever thought to yourself that you'd make a good television executive? Well, it's time to prove it: Amazon.com has launched 14 different full-length show pilots – eight comedies and six kids' shows – and is asking you to help decide which to make into actual series airing on Amazon Prime.
These 14 shows represent Amazon's entry into the original content development game. Both Hulu and Netflix have already created their own original shows. Amazon is surely hoping that one or two successful originals will help boost its competing Amazon Prime service, which has a heavy emphasis on educational content.
The Amazon Originals aren't throwaway fare – they're well-produced, budgeted pilots with recognizable actors. For example, Roseanne's John Goodman stars in Alpha House, a comedy about a group of senators; and Frasier's Bebe Neuwirth stars in Browsers, a comedy about an online news site. (Disclaimer: No former cast members of Frasier are employed by Techlicious.) After you watch a show, you can rate it and leave feedback.
Of special interest to parents are Amazon's six new kids' series: Annebots, Creative Galaxy, Positively Ozitively, Sara Solves It, Teeny Tiny Dogs, and Tumbleaf. Some of aren't fully animated yet, but almost all of the shows are getting rave reviews from the public. One viewer of Sara Solves It raves about how the show "is entertaining, keeps a child's interest and teaches them math basics." Another person raves about how the science show Annebots "interacts with kids at their higher level of intelligence."
All 14 shows are currently free to watch, even to those who don't subscribe to the premium Amazon Prime service. So if you want to learn more about the future of Amazon Prime – or if you just want to kill some time by watching some free TV – point your browser toward Amazon and take a look.