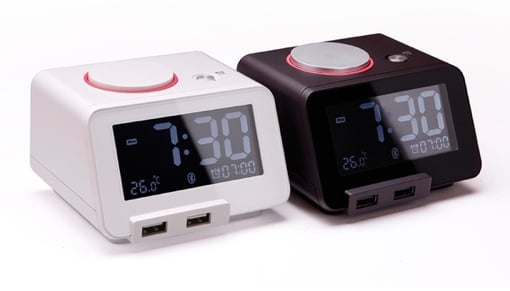 Chinese electronics company Shanghai Funner Electronic Technology Co has been producing electronic products for other companies for years, but is now launching a product of its own, the Homtime C1pro. It's an amazingly versatile electronic alarm clock that combines a Bluetooth music player, dual-port USB chargers and an indoor weather station. The device also includes a MicroSD card reader option for music playback.
The clock, alarm and volume are set through the use of a rotary dial on the top of the device. The dial can also adjust the brightness (four settings) of the clock's one-inch-tall time display. The dual USB chargers, meanwhile, offer both a 1A port and a 2.1A port for faster tablet and smartphone charging. There's a display on the device that tells you what the room temperature is, too – a nice bonus feature if you're a heat-sensitive sleeper.
The Homtime C1pro looks like it would make a great, every-day alarm clock for you, the kids, or a guest bedroom. It also works as a great travel alarm clock too since you can set it quickly and use it to play your favorite tunes. You'll always have USB ports available to bring your smartphone back to full charge while you sleep. It may not be ultra high-end like the $249.99 Tivoli Albergo, but it can still hold its own, feature-wise, especially given that it's a fifth of the price.
The Homtime C1pro will be available through a now fully funded Kickstarter project – it's raised over $50,000 towards a $30,000 goal. Pledge $49 or more and you can get your C1pro (in black or white) with September 2015 (estimated) delivery and free shipping. Pledge $54 or more, and Homtime will throw in a 4 GB microSD card and card reader. For more information, check out the video below and visit the C1pro Kickstarter page.
[Image credit: Homtime]