Unveiled at CES 2019, the HP EliteBook x360 830 G5 is a new, versatile take on the classic HP laptop, built with security in mind. They covered every aspect from camera security to shoulder surfing prevention to malware protection.
The most innovative of the security technology is HP's Sure View Gen3 privacy screen. You can turn it off and on using a function key on your keyboard. When it's on, the screen looks black when viewed from the side. And, unlike other privacy screens, it doesn't reduce overall brightness when viewing content straight on. The display itself is super bright, rated at 1,000 nits. Most high-end laptops are rated around 400-500 nits, while inexpensive models are usually around 250-300 nits.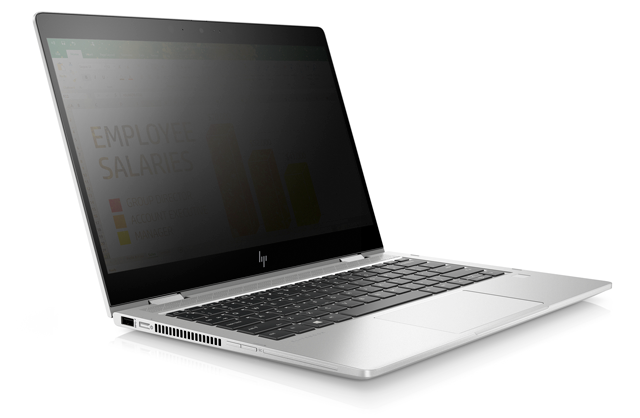 You can use your fingerprint or face to log in, in addition to the usual password. And if you're concerned about leaving your camera uncovered, you can use the built-in physical shutter.
The HP suite of software offers a wide array of protection from malware, from HP Sure Start Gen4 to automatically recover the BIOS after an attack, to HP Sure Click which protects against viruses from websites or attachments before they even get onto your new computer.
From a design perspective, the new EliteBook 360 has a notable feature. When converting from traditional laptop to tablet, you can spin the screen so it rests on top of the keyboard backward. It also comes with an HP Rechargeable Active Pen, so you can jot notes on the tablet like you would a piece of paper.
While you're at work, if you need to make a presentation you can slightly open the case and prop it into tent mode. With dual stereo speakers, an HD camera, and a 3 multi array microphone, presentations and conference calls are easy. You can put all those specs to good use after work with its integrated Intel UHD Graphics 620 card in Media mode, which is ideal for watching videos.
The HP EliteBook x360 830 G5 can come configured with Core i3 - Core i7 8th generation Intel processors, up to 32 GB RAM and up to a 2TB drive. Prices start at $1,299 on HP.
[Image credit: HP]